Obama Orders U.S. Troops in Afghanistan to Keep Fighting for a 14th Year
Tuesday, November 25, 2014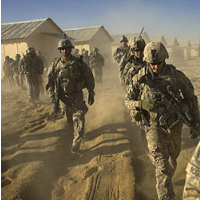 (photo: David Furst, AFP/Getty Images)
In May, President Barack Obama said American troops in Afghanistan would cease their "combat mission" by January 1. Now, come January 1, U.S. soldiers will engage in "combat operations," marking the 14th consecutive year of fighting. So much for the war ending.
The only significant difference between what the U.S. military has been doing in Afghanistan and what it will be doing starting next year is the size of its forces. Instead of tens of thousands of soldiers, the U.S. will station only 9,800 to fight al-Qaeda and Taliban militants.
"Senior administration officials said that Obama agreed that U.S. military leaders in Afghanistan are authorized to approve combat operations, using ground forces, manned aircraft and drones, under three sets of circumstances," Karen DeYoung and Missy Ryan wrote at The Washington Post.
"They include counterterrorism operations against al-Qaeda and other 'transnational' terrorist groups, protection of U.S. forces engaged in training or other activities, and assistance to Afghan forces. Under those circumstances, U.S. forces probably will be engaged in direct combat with the Taliban and other groups that pose a threat to them or other members of the remaining international military coalition," they added.
American engagement with insurgents will include U.S. Special Forces accompanying Afghan National Army Special Forces, which have been cleared to resume nighttime raids. Such missions were banned under former President Hamid Karzai after they resulted in civilian casualties. But the country's new leader, Ashraf Ghani, "quietly lifted the ban," according to The New York Times.
"President Ghani has reached out and embraced the international community. We have a strategic opportunity we haven't had previously with President Karzai," Gen. John F. Campbell, the allied commander in Afghanistan, has told the Times.
-Noel Brinkerhoff
To Learn More:
Afghan Mission for U.S. To Continue under New Authorities (by Karen DeYoung and Missy Ryan, Washington Post)
In a Shift, Obama Extends U.S. Role in Afghan Combat (by Mark Mazzetti and Eric Schmitt, New York Times)
Afghanistan Quietly Lifts Ban on Nighttime Raids (by Rod Nordland and Taimoor Shah, New York Times)
U.S. Bombing of Afghanistan Hits 2-Year High (by Noel Brinkerhoff and Steve Straehley, AllGov)