Obama Finally Puts an End to Unpopular Secure Communities Program
Sunday, November 23, 2014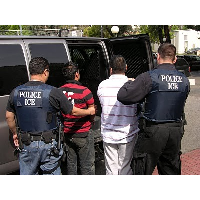 (photo: ICE)
Those immigrants arrested for minor crimes can breathe a bit easier now that a program under which federal officials could order holds put on those suspected of being in the country illegally is ending.
As part of broader immigration reforms, the Obama administration announced Thursday that the Secure Communities program, which mandated that local law enforcement submit biometric information on those suspected of being undocumented immigrants to the federal government, is going away. In its place will be the Priority Enforcement Program, which specifies that those held must be likely deportable or have a removal order in effect against them.
"The program has attracted a great deal of criticism, is widely misunderstood, and is embroiled in litigation," Homeland Security Secretary Jeh Johnson wrote in the memo (pdf) announcing the change. "Its very name has become a symbol for general hostility toward the enforcement of our immigration laws."
Those who fought the program greeted its demise with cautious optimism. "I think there's finally recognition that the Secure Communities experiment was a failure, and that the program became a Frankenstein," Chris Newman, an attorney for the National Day Laborer Organizing Network, told the Los Angeles Times. Newman's group had challenged Secure Communities in two court cases, one of which resulted in many law enforcement agencies ceasing to cooperate with U.S. Immigration and Customs Enforcement (ICE) in the program.
California enacted a law last year that limited law enforcement cooperation with Secure Communities to those cases where the person being held was accused of a serious felony. The city of Philadelphia similarly passed legislation limiting compliance with the law.
Some are still taking a wait-and-see attitude toward the change. "It's not really clear at this stage if there's any real, meaningful change that's going to happen with regard to detainers," Greg Chen, advocacy director at the American Immigration Lawyers' Association, told PBS' "Frontline." He expressed concern that information will still be flowing to ICE.
Another memo (pdf) put out by Johnson specifies who—such as those convicted of felonies or gang activity or who are a threat to national security—should be considered for deportation.
-Steve Straehley
To Learn More:
Obama Ends Secure Communities Program as Part of Immigration Action (by Kate Linthicum, Los Angeles Times)
Obama's Immigration Plan Includes End to "Secure Communities" (by Sarah Childress, PBS Frontline)
Philadelphia Mayor Nutter Orders Police and Prisons to Limit Cooperation with Federal Immigration Agents (by Noel Brinkerhoff, AllGov)
California Bucks Feds on Two Fronts: Deportation and Detention (by Ken Broder, AllGov California)