Obama Administration Fights to Keep Details of Justice Department Torture Report Secret
Friday, December 12, 2014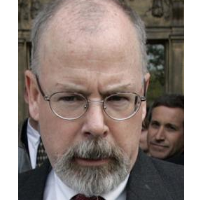 John H. Durham led Justice Dept's CIA torture probe and advised against filing charges (AP photo)
While the media parsed the details of the Senate committee's report on Central Intelligence Agency (CIA) torturing of detainees last decade, the Obama administration was fighting in court to prevent documents from another investigation into the spy agency's program from being examined by a leading national newspaper.
The New York Times has sued in federal court to obtain thousands of pages from a U.S. Department of Justice probe into the torture of detainees by the CIA during the George W. Bush administration. The materials that the newspaper wants to see include "10 reports and memorandums totaling 1,719 pages — more than three times the number of pages in the Senate report," wrote the Times' Charlie Savage, who is a party to the lawsuit. The documents in question include transcripts of interviews by a special prosecutor with about 100 witnesses as well as documents explaining why no charges were ever filed.
The Justice probe into the CIA program was conducted by prosecutor John H. Durham, who spent four years delving into the controversy but ultimately recommended to Attorney General Eric Holder Jr. to not file charges against the agency or any of its employees or contractors. Holder followed Durham's suggestion and refrained from going after the CIA.
The Justice Department filed court documents on the same day that the Senate Intelligence Committee released its 524-page report on the CIA's rendition and torture program. It argued in its filing with the New York federal court that all of the pages requested by the Times should remain locked away "because disclosing them could affect the candor of law enforcement deliberations about whether to bring criminal charges," according to Savage.
-Noel Brinkerhoff
To Learn More:
U.S. Tells Court That Documents From Torture Investigation Should Remain Secret (by Charlie Savage, New York Times)
New York Times v. Department of Justice (U.S. District Court, Southern New York)
Judge Gives Obama Administration until December to Justify Withholding 2,100 Photos of U.S. Use of Torture in Iraq and Afghanistan (by Danny Biederman and Noel Brinkerhoff, AllGov)
Obama Refuses to Turn Over 9,400 CIA Torture and Interrogation Documents to Congress (by Noel Brinkerhoff, AllGov)