Obama Refuses to Turn Over 9,400 CIA Torture and Interrogation Documents to Congress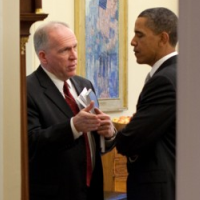 CIA Director John Brennan and President Obama (photo: Pete Souza, White House)
President Barack Obama has insisted he should not get involved in the current political fight between his Central Intelligence Agency (CIA) and the Senate's intelligence committee over documents related to the CIA's former detention and interrogation program. But the fact is Obama has been directly involved all along, beginning long before the disagreements and accusations began to fly between the CIA and the committee.
It turns out that the White House has been withholding thousands of CIA documents that the Senate Select Committee on Intelligence has sought to examine as part its investigation into the CIA's torture of terrorism suspects during the George W. Bush administration.
About 9,400 classified documents have been locked away by Obama since 2009—the year that the committee, led by Senator Dianne Feinstein (D-California), began probing CIA records of the controversial program, according to McClatchy news.
Feinstein has known about the records and asked the White House repeatedly for them. But Obama has refused to agree to any compromise that would allow the committee to examine these papers.
"These documents certainly raise the specter that the White House has been involved in stonewalling the investigation," Elizabeth Goitein, co-director of the Brennan Center for Justice's Liberty and National Security Program at the New York University Law School, told McClatchy.
Obama has not exercised a claim of executive privilege, under which presidents can cloister executive branch communications, to keep the documents hidden. Instead, the White House has just sat on them while rejecting all of Feinstein's entreaties.
Publicly, Obama has claimed that his administration has worked with the committee so it is "well informed." But he has refused to comment on the battle between the CIA and Feinstein.
Another example of the White House's involvement in this controversy came just before the CIA decided to file a criminal complaint with the U.S. Department of Justice (DOJ), alleging that Feinstein's aides had broken the law during their investigation.
That complaint, filed by the CIA's top lawyer, was first discussed with Obama's legal advisors who did not object to this maneuver—which Feinstein has characterized as an attempt to intimidate her staff.
"There was no comment, there was no weighing in, there was no judgment," Obama press secretary Jay Carney told the media about the White House legal review of the CIA going to the Justice Department.
It is also noteworthy that the CIA acting general counsel who filed the complaint with the DOJ had served as a lawyer in the CIA's Counterterrorism Center beginning in 2004. That suggests that he was directly involved in fashioning the legal justifications for the agency's torture program under Bush.
"And now this individual is sending a crimes report to the Department of Justice on the actions of congressional staff," Feinstein pointed out. "The same congressional staff who researched and drafted a report that details how CIA officers—including the acting general counsel himself—provided inaccurate information to the Department of Justice about the [torture] program."
-Noel Brinkerhoff
To Learn More:
White House Withholds Thousands of Documents from Senate CIA Probe, Despite Vows of Help (by Jonathan Landay, Ali Watkins and Marisa Taylor, McClatchy)
Obama: White House Won't Wade into CIA Torture Report Dispute at This Point (by Paul Lewis, The Guardian)
Senate Investigation of Bush-Era Torture Erupts Into Constitutional Crisis (by George Zornick, The Nation)
Why is Obama Hiding 6,000-Page Report on Bush-Era Torture and Why is Torture Still Allowed? (by Matt Bewig, AllGov)