Network Newscasts of Presidential Campaigns Said to Offer the Least Substance in at Least Three Decades
Saturday, October 29, 2016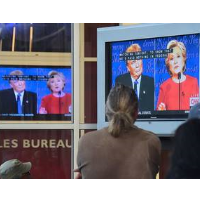 (photo: Frederic J. Brown, AFP/Getty Images)
By David Bauder, Associated Press
NEW YORK (AP) — Two studies of U.S. news coverage suggest that this is a presidential campaign with little substance — unless groping women, tax returns and email servers are your idea of major issues.
ADT Research, which monitors content of the ABC, CBS and NBC evening newscasts, said Wednesday that with two weeks before Election Day, there has been less issues coverage than for any presidential campaign the company has monitored, going back through 1988.
The conservative watchdog Media Research Center also counted the campaign topics that have taken up the most time on the newscasts since the end of the conventions. Of the 15 topics with the most attention, arguably only two — Donald Trump's position on immigration and questions about his attitudes toward Russia and its leader, Vladimir Putin — could be considered traditional policy issues.
"This year's absence of issues is an accurate portrayal of the turf on which the election is being played out," said Andrew Tyndall, head of ADT Research and publisher of the Tyndall Report.
Networks cast doubt on some of the research, saying it overlooks many of their substantive stories.
By Tyndall's methodology, the network newscasts so far this year have spent only a third of the time on so-called issues stories than any of the last eight campaigns. He defines an issues story as one that takes a particular topic like immigration or Mideast policy and outlines the candidates' position. He wouldn't include, for example, coverage of a rally where a candidate talks about immigration.
The coverage reflects a campaign that has become a referendum on Trump and Hillary Clinton's fitness for office, he said. But he suggests the broadcasters should be making more of an effort to strike out on their own.
Rich Noyes, research director at the MRC, said Clinton in particular is happy to see so much attention paid to Trump's suitability for office.
"Candidates certainly could find imaginative ways to draw attention to policy issues if that's what they wanted to stress," Noyes said. "But the networks could find imaginative ways to cover policy issues that matter most to Americans."
Steve Capus, executive producer of the "CBS Evening News," said that's being done, and the studies miss different ways that substance is being injected into the coverage. For example, CBS did a series this summer interviewing foreign policy experts on the most daunting problems a new president will face. Fact-checking claims made during debates is another way to include specifics, he said.
"It's not just a beauty pageant here," Capus said. "We're talking about substance."
ABC pointed to anchor David Muir's coverage of the Syrian refugee crisis and interviews with the candidates.
The most-covered campaign topic by far concerned the way Trump treats and talks about women, the MRC said. That received 102 minutes of coverage, nearly double the second-place issue, concerning questions about Clinton's health.
Other topics that drew attention on the newscasts included Clinton's use of a personal mail server while secretary of state, Trump's refusal to release a tax return and what that says about what he did or didn't pay, the birther issue, Trump's temperament and practices of both the Clinton and Trump foundations.
There's little doubt about which candidate drives most coverage. The MRC report said the newscasts have spent 785 minutes on Trump coverage, 478 minutes on Clinton. Since 440 minutes of the Trump coverage concerned controversies he's kicked up, Clinton's not likely to complain about the disparity.
To Learn More:
American Voter Dissatisfaction with Two Likely Presidential Nominees Highest in Decades (by Dan McCue, Courthouse News Service)
Fox News Monthly Election Coverage: 666 Minutes for GOP Candidates, 13 Minutes for Dems (by David Bauder, Associated Press)
Don't Like Clinton or Trump? Just Shut Up and Watch TV (by David Wallechinsky, AllGov)
More Americans Support Bernie Sanders than Donald Trump, but Trump Gets 23 Times as much TV Coverage (by Noel Brinkerhoff and Steve Straehley, AllGov)
Network Newscasts Were All-Trump, All the Time In 2015 (by Eric Boehlert, Media Matters for America)