Don't Like Clinton or Trump? Just Shut Up and Watch TV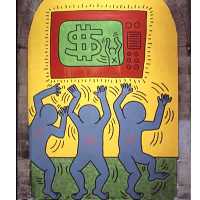 (painting: The Ten Commandments 5 by Keith Haring)
Here are a couple disturbing statistics from a recent poll conducted by NBC News and The Wall Street Journal that judges the favorable/unfavorable ratings of the presidential candidates and other public figures. On the Democratic side, Bernie Sanders has a favorability rating of +7, while Hillary Clinton has a rating of -13. On the Republican side, John Kasich has a favorability rating of +19, while Donald Trump has a rating of -39.
Guess who are the frontrunners to win their party's nominations? You already know the answer: unpopular Hillary Clinton and record-setting unpopular Donald Trump. How could such a thing happen?
Here's another chart. It measures how much free TV time each candidate was given. This is known, ironically, as "earned" media. (It's the second chart in the article.)

Surprise surprise. Guess to whom the news channels gave the most free coverage? Hillary got almost 2 1/2 times the coverage as Bernie, and Trump received almost as much coverage as the other 16 candidates combined.
That's how democracy works in an age when people are still watching TV news and the networks' main goal is to increase their ratings, rather than to help voters understand the policy positions of the competing candidates.
-David Wallechinsky
To Learn More:
Measuring Donald Trump's Mammoth Advantage in Free Media (by Nicholas Confessore and Karen Yourish, New York Times)
Network Newscasts Were All-Trump, All the Time In 2015 (by Eric Boehlert, Media Matters for America)
More Americans Support Bernie Sanders than Donald Trump, but Trump Gets 23 Times as much TV Coverage (by Noel Brinkerhoff and Steve Straehley, AllGov)