Most Police Shootings Don't Lead to Prosecution of Police
Thursday, November 27, 2014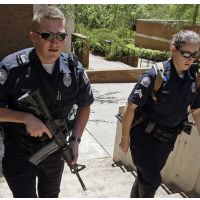 (photo: John Bazemore, AP)
It perhaps shouldn't come as a surprise that Officer Darren Wilson will not stand trial for killing Michael Brown in Ferguson, Missouri. A new study shows police involved in fatal shootings are rarely charged with a crime.
Criminologist Philip Stinson at Bowling Green State University reviewed 6,700 incidents of police being charged with a crime. Of this total, Stinson found only 41 officers indicted over a seven-year period for either murder or manslaughter in connection with on-duty shootings. The Federal Bureau of Investigation reported 2,718 justified homicides by law enforcement from 2004 to 2011, which was an incomplete count.
"It's very rare that an officer gets charged with a homicide offense resulting from their on-duty conduct even though people are killed on a fairly regular basis," Stinson, an assistant professor of criminal justice, told The Wall Street Journal.
Police advocates insist the total of officers charged with murder is so low because the shootings are "usually justified," according to William Johnson, executive director of the National Association of Police Organizations. "Basically, that the officer acted in self-defense or the defense of another person."
Samuel Walker, a professor emeritus of criminal justice at University of Nebraska, told the Journal that the lack of police prosecutions is "one factor that enters into the perception of African Americans that the police are not on their side," and that "Shootings are really the tip of that iceberg, and all of that is where the anger came from in Ferguson."
-Noel Brinkerhoff
To Learn More:
Police Rarely Criminally Charged for On-Duty Shootings (by Zusha Elinson and Joe Palazzolo, Wall Street Journal)
Allegations of Police Misconduct Rarely Result In Charges (by Reuben Fischer-Baum, FiveThirtyEight)
Tough to Make a Case against Police in Shootings (by Eric Tucker, Associated Press)
Federal Law Requiring Annual Report on Excessive Force by Police has been Ignored for 20 Years (by Steve Straehley, AllGov)
How Many People are Killed by Police in U.S.? Who Knows? (by Steve Straehley, AllGov)
Justice Dept. begins Unprecedented Monitoring of Miami Police over Fatal Shootings (by Noel Brinkerhoff, AllGov)
Half of People Killed by Police are Mentally Ill (by Noel Brinkerhoff, AllGov)