Federal Law Requiring Annual Report on Excessive Force by Police has been Ignored for 20 Years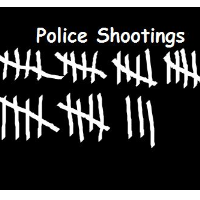 (graphic: Steve Straehley, AllGov)
The circumstances of the death of Michael Brown in Ferguson, Missouri, have brought that one police shooting into the national conscience. But many other Americans are killed by police and their deaths go unnoticed and mostly uncounted, despite a Congressional mandate.
In 1994, Congress passed the Violent Crime Control and Law Enforcement Act. Among its provisions was the order that "the Attorney General shall, through appropriate means, acquire data about the use of excessive force by law enforcement officers." The Justice Department was also required to publish an annual report on the data collected.
And…that's pretty much the last anyone heard of that. The work of collecting the data was shuffled off to the International Association for Chiefs of Police, which made a few efforts at collecting data and put together a report in 2001, but has produced nothing since.
"That's a clear, clear problem," Matthew Hickman, an associate professor of criminal justice at Seattle University, told Michael Doyle of McClatchy. "When it comes to use of force, we have almost nothing."
Part of the reason is that the term "excessive force" is open to interpretation. Even a shooting ending in the death of an unarmed pedestrian could be judged by a jury to be justified. In addition, police departments are expected to report on their own incidences of excessive force, which some might be reluctant to do.
The Justice Department began to compile statistics on police shootings in 2001, according to the International Business Times. However, their reports cover only the years from 2003 to 2009 and don't tell the whole story because of incomplete reporting and problems with research methods.
Wikipedia has tried to crowd-source a shootings database and blogger Jim Fisher, who scours the internet for information on police shootings, has had some success.
For now, Congress is still waiting for the statistics, although the head of the Senate Judiciary Committee that sought the data has moved on. His name is Joe Biden and he's now Vice President of the United States.
-Steve Straehley
To Learn More:
Data On Police Shootings Is Hard To Find (by Michael Doyle, McClatchy)
How Many Police Shootings Have There Been? (by Ross Keith, International Business Times)
How Many People are Killed by Police in U.S.? Who Knows? (by Steve Straehley, AllGov)