Makers of Arthritis Drugs, Costliest in U.S., Come under Fire by Nation's Biggest Drug Benefits Manager
Saturday, September 10, 2016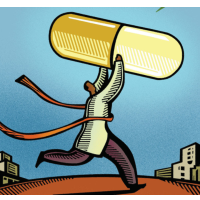 (graphic: Bull's Eye/Imagezoo/Getty Images)
By Katie Thomas, New York Times
Americans have expressed outrage at drug companies for raising prices on products like EpiPen, the severe allergy treatment needed by thousands of children, and Daraprim, a rarely used but essential drug to treat a parasitic infection.
But insurers and employers — who pay the bulk of the cost for drugs — say that a bigger financial shock has come from a largely overlooked source: expensive anti-inflammatory medications like Humira and Enbrel, drugs taken by millions of people for conditions like rheumatoid arthritis. In recent years, the price of the medications have doubled, making them the costliest drug class in the country by some calculations.
Now, one of the most powerful forces on the side of drug payers is pushing back. On Thursday, Express Scripts, the nation's largest drug benefits manager, changed its recommendations to insurers and employers, saying they should cover fewer drugs for many inflammatory conditions. The idea is that the new limits will force drug companies to lower their prices, saving insurers and employers money.
The approach has already set off some complaints among patients, who rely on regular injections of the drugs to keep painful and uncomfortable symptoms in check. If an approved drug does not work, patients will have to take extra steps get a different drug. But Express Scripts said that the move was necessary to contain costs. The drugs account for nearly 10 percent of all drug spending among its members in the United States, the company says — costing an estimated $7.5 billion — even though fewer than 1 percent of its members use them.
"This is a category of drugs that are used for crippling, very painful conditions, yet they don't affect huge numbers of people," said Dr. Glen Stettin, the chief innovation officer at Express Scripts. The rising costs, he said, are due less to a rising number of patients who need the products and "much more because of the increase in the prices of these medications."
The approach is the latest effort by insurers and drug-benefit managers to more closely manage drugs in high-cost diseases, limiting which ones are covered or requiring patients to take additional steps to get approval for certain products. In 2014, Express Scripts shook up the market for hepatitis C drugs when it required its patients to use a new treatment by AbbVie rather than more expensive competitors. It made similar moves last year with the approval of expensive new treatments for high cholesterol.
Like those previous efforts, the effort for inflammatory conditions will most likely help the company's mail-order specialty pharmacy, Accredo. Express Scripts said patients getting the anti-inflammatory medications through the new program would need to use Accredo, not a competing pharmacy, giving the service a bigger base of customers.
As a drug benefit manager, Express Scripts provides services like negotiating with drug companies and approving or denying drug claims. The new program is voluntary for employers and insurers who use the company, but its recommendations are usually widely adopted.
Humira, made by AbbVie, and Enbrel, made by Amgen, each carry a monthly list price of just over $4,000, and each have increased those prices by about 130 percent from 2011 to 2016, according to the Gold Standard Drug Database compiled by Elsevier Clinical Solutions. That price does not include rebates that the manufacturers negotiate with insurers. Express Scripts said that the actual monthly cost of anti-inflammatory drugs, before the new program, was about $3,000.
Representatives for large employers, who subsidize the health insurance of their employees, said the efforts were welcome. Drugs like Humira and Enbrel are known as specialty drugs, a category of products that treat serious conditions and whose rising costs have increasingly alarmed those who are paying the bills.
"If you go back to 2014, it wasn't even on the radar screen for employers, and now it's No. 1," said Brian J. Marcotte, chief executive of the National Business Group on Health, which advocates for large employers.
But some patients questioned whether it would further limit the options for some people or make it more cumbersome to get the medications they needed. The program would apply only to new patients; those already stable on drugs would be allowed to remain on them.
"Jumping through hoops may not seem like a big thing to somebody that doesn't have to live with the condition," said Nicole Martin, 33, of Blaine, Kentucky, who has rheumatoid arthritis and takes Enbrel. "But even being a day or two behind can cause massive issues for somebody."
Traditionally, patients were offered all the drugs that were covered by their plans no matter which inflammatory condition they had — from rheumatoid arthritis to psoriasis and ulcerative colitis. Under the new guidelines, Express Scripts has devised a separate list of preferred and nonpreferred drugs for each condition. Patients who want to use a drug on the nonpreferred list will need a letter from their doctor.
The company said the move would require drug companies to compete more directly. The motivation to get on the preapproved list, the company said, would push drug companies to offer better discounts to employers and insurers. Express Scripts declined to provide specifics about the discounts that it had negotiated through the new program.
"We expect to make a big dent in the cost of caring for people in this category, without compromising the care that people get," Stettin said.
Stettin said the company looked at patient data first when deciding which drugs would be preferred. "Clinical always comes first, and the cost is second," he said.
Representatives for drug companies, including AbbVie and Amgen, said they believed doctors and patients — and not insurance companies — should decide which therapy is best. And they said the list price does not reflect the rebates and other discounts that insurance companies and drug-benefit managers negotiate, which make the actual cost lower.
"Because of the magnitude of these rebates," said Kristen Davis, a spokeswoman for Amgen, "price increases have become part of the competitive dynamic."
The program will also refund up to $2,000 a month to employers and insurers if a patient has to switch from a preferred drug to a different medication in the first three months, a potential savings of about $250 million a year. About a quarter to a third of patients end up switching to a new drug in the first few months, Express Scripts said.
But that money-back guarantee does not necessarily go to the patient, even if the patient has a high-deductible plan and paid for all or most of the drug. Employers will decide whether to pass that refund along to the patients, Express Scripts said.
A reason that the rising cost of drugs like Humira and Enbrel hasn't stoked greater outrage is that many patients are shielded from the costs. In addition to the discounts the companies negotiate with drug-benefit managers, AbbVie and Amgen run assistance programs that often reduce patients' out-of-pocket costs. The average Express Scripts member paid $127 in monthly copayments for a drug to treat an inflammatory condition, the company said.
Stettin said patients would be better served by using the company's specialty pharmacy, Accredo, which has pharmacists who specialize in inflammatory conditions. He cited company data showing that patients with those conditions were more likely to take their drugs when they used Accredo compared with other pharmacies.
But some industry observers said the move was a ploy to build Accredo's mail-order business, by essentially locking in patients whose employers opt in to the new program, then making money by filling the prescription.
"They really, really want their hands on that script," said Michael Rea, chief executive of Rx Savings Solutions, which advises employers on how to reduce drug costs.
To Learn More:
Prescription Drug Coupons May Cause Increase in Drug Prices for All (by Charles Ornstein, ProPublica)
Drug Industry's Pricey Meds Behind 8.5% Increase in Americans' Prescription Spending (by Linda A. Johnson, Associated Press)
Leading Candidates and 83% of Americans want Lower Prices for Medicare Drugs…but it's not going to Happen (by Matthew Perrone, Associated Press)
Valeant Leads Big Pharma Trend of Skyrocketing Drug Prices (by Steve Straehley and Noel Brinkerhoff, AllGov)
Lawmakers Tentatively Challenge Drug Makers over Outrageous Costs for Medicine (by Noel Brinkerhoff and Danny Biederman, AllGov)
TPP Critics Say U.S. Shift on Drug Pricing Revealed in Leaked Trade Document will Help Big Pharma at Consumers' Expense (by Noel Brinkerhoff, AllGov)