Valeant Leads Big Pharma Trend of Skyrocketing Drug Prices
Thursday, October 08, 2015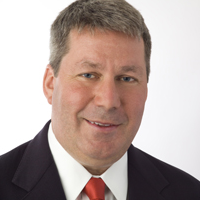 Valeant CEO J. Michael Pearson (photo: Valeant Pharmaceuticals)
If you're a stockholder, you love Valeant Pharmaceuticals. If you're a patient with a chronic disease, probably not so much.
Valeant has so far in 2015 raised prices on its brand-name drugs an average of 66%, about five times as much as its closest industry peers, according to a Deutsche Bank analysis.
After Valeant acquired Salix Pharmaceuticals, it raised the price of one Salix drug, the diabetes medication Glumetza, about 800%. The treatment for Wilson disease, which can cause liver and nerve damage, is Cuprimine. Valeant raised the price of a month's supply from $366 to $1,800.
Responding to criticism over its drug-pricing strategies, Valeant said in a statement that it "prices its treatments based on a range of factors, including clinical benefits and the value they bring to patients, physicians, payers and society."
Valeant's corporate strategy has nothing to do with finding cures for disease. Instead, the company buys other drug firms that own older pharmaceuticals. Then Valeant jacks up the price, counting on insurance companies and Medicare to foot most of the bill.
If "products are sort of mispriced and there's an opportunity, we will act appropriately in terms of doing what I assume our shareholders would like us to do," Valeant CEO J. Michael Pearson told analysts in a conference call in April. In other words, he's happy to squeeze money out of patients for the sake of his shareholders.
The company also "is known for buying companies and laying off their employees to achieve savings, while accumulating a debt of about $30 billion," The New York Times' Andrew Pollack and Sabrina Tavernise reported.
Now even Valeant's shareholders might be unhappy. The company's stock price has plunged 27% in the past month, partly because Democrats in Congress are pushing for an investigation into the company's pricing practices.
- Steve Straehley, Noel Brinkerhoff
To Learn More:
Valeant's Drug Price Strategy Enriches It, but Infuriates Patients and Lawmakers (by Andrew Pollack and Sabrina Tavernise, New York Times)
More Pain for Biotechs Ahead: Valeant's 'Astronomical' Price Increases Take Center Stage; Pfizer Gets Dragged In (by Tyler Durden, Zero Hedge)
Valeant, Amid Drug-Pricing Storm, Takes on Investor Critics (by Caroline Chen, Bloomberg)
Hedge Fund Ethics Hit Drug Industry as "Rare Disease" Loophole Causes Cost of Medicine to Suddenly Skyrocket (by Danny Biederman and Noel Brinkerhoff, AllGov)