Major U.S. Poultry Producer Embraces Use of Antibiotics despite Potential Health Threat
Wednesday, August 03, 2016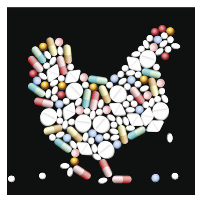 (photo: Peter Hermes Furian, Getty)
By Stephanie Strom, New York Times
In the last couple of years, the poultry industry has sharply reduced its use of antibiotics, responding to concerns among public health officials and regulators about the rise of antibiotic-resistant bacteria.
But now, one major poultry processor is standing its ground.
Sanderson Farms, the country's third-largest poultry producer, has started an advertising campaign to defend its continued use of antibiotics — and calls its competitors' efforts in the other direction a "marketing gimmick" aimed at charging higher prices.
"There's a lot of confusion about the labels used to market chicken," said Mike Cockrell, chief financial officer at Sanderson. "We have decided we're not going to sacrifice our environmental goals, our animal welfare goals or our food safety goals for marketing purposes."
The ads feature two blue-collar men, Bob and Dale, in plaid shirts and baseball caps talking about the labels on chicken.
"The ones that say 'raised without antibiotics,'" Dale says in one of the ads, "That's just a trick to get you to pay more money."
Sanderson's marketing campaign is likely to intensify the already fierce fight over the use of antibiotics in agriculture. Consumers, advocacy groups and corporate customers like McDonald's and Chick-fil-A have said they will buy only chicken raised without the antibiotics used to treat humans.
Those commitments and others have persuaded four of the five large U.S. poultry producers to begin reducing their reliance on antibiotics.
But not Sanderson.
"There is not any credible science that leads us to believe we're causing antibiotic resistance in humans," said Lampkin Butts, president and chief operating officer of Sanderson.
The Centers for Disease Control and Prevention has repeatedly expressed concern that the use of antibiotics in animal husbandry is contributing to the rise of antibiotic-resistant bacteria. In a 2013 report, the agency linked two of 18 antibiotic-resistant bacteria to the use of antibiotics in animals.
Dr. Robert Tauxe, director of the division of food-borne, waterborne and environmental diseases at the agency, said that research had demonstrated that antibiotic use in animals that produce food has a negative impact on public health.
"There have been a number of well-documented epidemics where animals given antibiotics were carrying disease-causing bacteria that were resistant to those antibiotics that made people very sick," he said.
To Learn More:
Majority of U.S. Restaurant Chains Have No Policy to Limit Use of Antibiotics in Meat and Poultry (by Noel Brinkerhoff, AllGov)
Top U.S. Chicken Supplier Tyson to Stop Using Antibiotics in its Poultry (by Noel Brinkerhoff, AllGov)
Oregon Farm Bills Seek to Regulate Antibiotics in State Agriculture (by Steve Straehley, AllGov)
FDA Approved 18 Animal Feed Additives Classified as "High Risk" (by Noel Brinkerhoff and Danny Biederman, AllGov)
FDA Phase-Out of Livestock Antibiotics is Only Voluntary and Partial (by Noel Brinkerhoff and Danny Biederman, AllGov)