Majority of U.S. Restaurant Chains Have No Policy to Limit Use of Antibiotics in Meat and Poultry
Thursday, September 17, 2015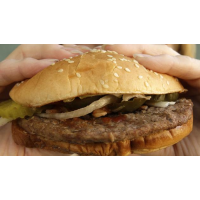 Whopper from Burger King, one of 20 restaurants graded "F" in antibiotics study (photo: Gene J. Puskar, AP)
Most of America's most popular restaurant chains have not embraced policies that address the use of antibiotics in meat and poultry, according to a new study.
Six leading consumer, public health, and environmental groups produced the study, "Chain Reaction," (pdf) which graded 25 of the largest U.S. fast food and fast casual restaurants on their policies regulating antibiotic use in their supply chains.
Twenty of the 25 companies received "F" grades for having no disclosed policy on antibiotic use in their meat and poultry or for having policies that fail to phase out this practice. The failing restaurants were: Applebee's, Arby's, Burger King, Chili's, Dairy Queen, Denny's, Domino's, IHOP, Jack in the Box, KFC, Little Caesars, Olive Garden, Outback Steakhouse Grill and Bar, Papa John's Pizza, Pizza Hut, Sonic, Starbucks, Subway, Taco Bell, and Wendy's.
The other five companies—Chipotle, Panera, Chick-fil-A, McDonald's, and Dunkin Donuts—received passing grades, with Panera and Chipotle getting A's.
Chick-fil-A, the largest commercial poultry buyer in the U.S., has pledged to go completely antibiotic-free by 2019. McDonald's has said it will phase out chicken raised with antibiotics "important to human medicine" from its U.S. restaurants over the next two years. Chicken producers Tyson and Perdue have made similar commitments, according to the Christian Science Monitor.
"From bacon cheeseburgers to chicken nuggets, most meat served by America's chain restaurants comes from animals raised in industrial-scale facilities, where they are routinely fed antibiotics," Kari Hamerschlag, senior program manager at Friends of the Earth, an environmental advocacy group, said in the report's release. "It's time for the restaurant industry to take leadership…by working with their meat and poultry suppliers to eliminate the routine use of antibiotics and improve overall conditions in U.S. meat production."
-Noel Brinkerhoff
To Learn More:
25 Restaurant Chains Graded on Antibiotic Use in Meat Supply. 20 Fail. (by Schuyler Velasco, Christian Science Monitor)
Most Restaurant Chains get Failing Grades on Antibiotic Use in New Report (by Aamer Madhani, USA Today)
Chain Reaction: How Top Restaurants Rate on Reducing Use of Antibiotics in Their Meat Supply (by Kari Hamerschlag, Sasha Stashwick, Steve Roach, Jean Halloran, Meg Bohne, Cameron Harsh, David Wallinga and Kari Hamerschlag; Friends of the Earth, Natural Resources Defense Council, Keep Antibiotics Working, Consumers Union, Center for Food Safety, and Food Animal Concerns Trust) (pdf)
Consumer Reports Testing Finds All Beef Shows Signs of Fecal Contamination (by Noel Brinkerhoff and Steve Straehley, AllGov)
97% of All Chicken Breasts in U.S. Found to Contain Harmful Bacteria (by Noel Brinkerhoff, AllGov)