Top U.S. Chicken Supplier Tyson to Stop Using Antibiotics in its Poultry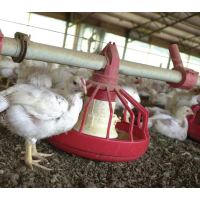 A Tyson poultry farm in Arkansas (photo: April L. Brown, AP)
Tyson Foods, the biggest producer of chickens in the United States, has heeded the call for eliminating antibiotics from poultry.
The $60 billion company plans to completely phase out antibiotics from the chicken farms it controls within two years, a timeline described as "aggressive."
Tyson, which produces about 20% of chickens in the United States, indicated in recent months that it was headed in this direction. It began last fall to phase out the drugs in its hatcheries, then in January made a similar decision with its chicken feed.
It also helped that less than two months ago McDonald's, one of Tyson's biggest customers, said it would stop buying chickens that were fed antibiotics.
Tyson's move "sends a message to other producers that the tides are turning," Nicole McCann, director of food campaigns for advocacy group Green America, told USA Today. The move also makes good business sense. Eighty-six percent of consumers support the availability of drug-free meats in grocery stores, according to the Consumer Reports National Research Center.
Next, Tyson plans to talk to its suppliers of beef, pork and turkey about eliminating antibiotic use in their meat.
-Noel Brinkerhoff
To Learn More:
Tyson: Nix Human Antibiotics in Chickens by 2017 (by Bruce Horovitz, USA Today)
The Company That Sells One in Five Chickens in the U.S. Will Stop Using Antibiotics (by Tara Culp-Ressle, ThinkProgress)
Why McDonald's Decision to Use Antibiotic-Free Chicken Could Be a Big Deal (by Sam P.K. Collins, ThinkProgress)
Oregon Farm Bills Seek to Regulate Antibiotics in State Agriculture (by Steve Straehley, AllGov)
FDA Approved 18 Animal Feed Additives Classified as "High Risk" (by Noel Brinkerhoff and Danny Biederman, AllGov)
FDA Phase-Out of Livestock Antibiotics is Only Voluntary and Partial (by Noel Brinkerhoff and Danny Biederman, AllGov)