If You Want to Know Statistics on Violence by Police, Don't Ask the Justice Dept.
Thursday, August 13, 2015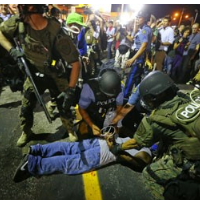 (AP photo)
Getting information on the use of force by police isn't easy, thanks to the U.S. Department of Justice, which has been largely "useless" in collecting accurate statistics on the issue.
The Justice Department was first told more than two decades ago to gather data on excessive use of force by police. But it has been unable to get reliable data from state and local agencies, which is why The New York Times called the department's data collection "almost useless."
"It's a national embarrassment," Geoffrey P. Alpert, a University of South Carolina criminology professor who often consults with the Justice Department on its studies, told the Times. "Right now, all you know is what gets on YouTube."
The problem is police departments don't use the same reporting standards. Some have combined the accounts of officers punching someone with the times they have shot someone. Some big-city departments claim they don't collect data on the use of force, while others, such as departments in New York, Houston, Baltimore and Detroit, balked at sharing it, according to the Times.
"Those that do keep track are under no obligation to release it," the Times' Matt Apuzzo and Sarah Cohen reported.
When civil rights investigators have investigated departments, they've often found violations. In Seattle, investigators reviewed reports on the use of force and found that one out of every five episodes was excessive. In Albuquerque, investigators found most police shootings from 2009 to 2012 were unjustified," the Times reported.
-Noel Brinkerhoff, Steve Straehley
To Learn More:
Data on Use of Force by Police Across U.S. Proves Almost Useless (by Matt Apuzzo and Sarah Cohen, New York Times)
Data Collections & Surveys (Bureau of Justices Statistics)
When Counting How Many People are Killed by Police, Online Databases do a far better Job than the U.S. Government (by Steve Straehley, AllGov)
Justice Dept. Does Not Compile Statistics on Solitary Confinement, Killings by Police or Prison Assaults (by Noel Brinkerhoff, AllGov)
How Many People are Killed by Police? Crowdsourcing Identifies the Officer-Involved Killings Government Doesn't Count (by Ken Broder, AllGov)