When Counting How Many People are Killed by Police, Online Databases do a far better Job than the U.S. Government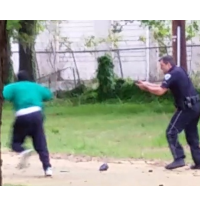 Walter Lamer Scott is killed by South Carolina police officer Michael Slager (photo: Feidin Santana)
Outsourcing jobs traditionally done by government employees is all the rage among conservatives. One place where it would definitely seem to make sense is counting how many people have been killed by police.
The Federal Bureau of Investigation (FBI) keeps a count of police killings, but their list is woefully incomplete, as they rely on voluntary reporting by police agencies. The FBI's count of police killings has hovered around 400 for the past several years, according to reporting by The Marshall Project.
The Washington Post does a more complete job of tracking police killings via firearms. As of July 2, the newspaper had counted 463 such deaths so far this year. They don't track other police killings, however, so the death of Freddie Gray, who died in Baltimore police hands in the back of a van in April, is not part of that count. The Guardian also keeps a list and theirs does include the killing of Gray and others who die from means other than gunshots. That list had 550 names on it as of last week.
Both papers use websites Killed by Police and Fatal Encounters to compile their data. Those sites, in turn rely heavily on Google Alerts and Google News to find information about police killings. The papers and the websites also use crowdsourcing to help refine and supplement the data. Participants are asked to provide links to news stories and fill out forms with the information they know about a case.
Even this system isn't comprehensive. One drawback is that thanks to massive cutbacks in the industry, newspapers are not as complete as they once were. "Small-town reporting isn't what it used to be, and I would not be surprised if some cases just went unreported," said Krishna Bharat, the former Google employee who founded Google News.
Another branch of the federal government, the Bureau of Justice Statistics, has realized there is a problem and is attempting to come up with more complete numbers than the FBI has. That agency uses numbers that come from data supplied via the Deaths in Custody Reporting Act and matched it against the FBI's numbers. BJS data came up closer to the numbers from the Post and Guardian.
The federal government might finally be getting serious about collecting complete numbers on police killings. Democratic Senators Barbara Boxer of California and Cory Booker of New Jersey have introduced legislation that would require police agencies to report all incidents in which the use of force "by or against a civilian or a law enforcement officer results in serious bodily injury or death."
-Steve Straehley
To Learn More:
Is Google More Accurate Than the FBI? (by Mark Hansen, The Marshall Project)
U.S. Cops Kill more People on an Average Day than U.K. Police do in a Year (by Noel Brinkerhoff and Danny Biederman, AllGov)
How Many People are Killed by Police? Crowdsourcing Identifies the Officer-Involved Killings Government Doesn't Count (by Ken Broder, AllGov)
How Many People are Killed by Police in U.S.? Who Knows? (by Steve Straehley, AllGov)