Homeland Security Requests Lid on Drone Data after Internal Documents Reveal 500 U.S. Flights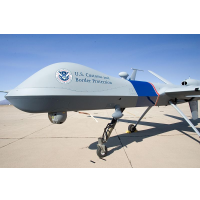 Custom and Border Protection drone (photo: Gerald Nino, CBP)
The Department of Homeland Security (DHS) has taken the position in federal court that it has revealed enough about government drone flights over the United States, and doesn't want to disclose anymore.
The Electronic Frontier Foundation (EFF), a civil liberties organization, sued DHS after it refused to comply with a Freedom of Information Act request about the agency's policies regarding domestic surveillance by unmanned aircraft.
The lawsuit resulted in DHS releasing a Powerpoint presentation on the Customs and Border Patrol's (CBP) use of drones along U.S. borders.
The EFF also won three years of "Daily Reports" revealing how often DHS helped other federal agencies, including requests for drone flights.
The data (pdf) showed that Homeland Security officials had arranged more than 500 flights for dozens of federal and local offices, including Immigration and Customs Enforcement (CBP), the Federal Bureau of Investigation, the Drug Enforcement Administration, the U.S. Coast Guard, Bureau of Indian Affairs, Grand Forks SWAT and several branches of the military.
Five hundred is considerably more than the two flights that DHS admitted to operating when the Department of Justice's Office of the Inspector General contacted the agency for a report on unmanned aircraft.
DHS has filed a motion (pdf) with the federal judge overseeing the EFF lawsuit to throw out the remainder of the case before it has to reveal any more details about drone activity.
EFF is already attempting to dig deeper, requesting from DHS the locations of several County Sheriff's Offices that were redacted from the list. The DHS brief opposes release of that and additional information, claiming that doing so "would reveal the law enforcement priorities of CBP and other supporting agencies, as well as OAM [CBP's Office of Air and Marine] techniques for supporting law enforcement investigations. This would present a serious threat to future law enforcement investigations and would risk circumvention of the law."
EFF responded to that claim on its website. Oral arguments in court regarding the dispute over additional DHS drone disclosures will commence on December 11.
-Noel Brinkerhoff, Danny Biederman
To Learn More:
That's Enough Light on Domestic Drones (by Adam Klasfeld, Courthouse News Service)
Audit Reveals that FBI Has Been Flying Drones in U.S. since 2006 (by Noel Brinkerhoff, AllGov)
Border Patrol Set to Weaponize Drones (by Noel Brinkerhoff, AllGov)
Here's Who's Buying Drones: Are Local Cops Watching You from the Sky? (by Matt Bewig, AllGov)