Hollywood Companies Win FAA Approval for First Commercial Use of Drones in U.S.
Monday, September 29, 2014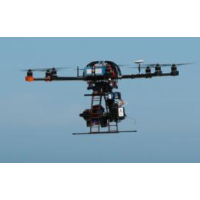 (Tony Carmean--AP)
Lights . . . camera . . . take off!
Six companies have won permission from the Federal Aviation Administration (FAA) to use drones in the filming of movies in the United States. It's the first time drones have been approved for use outside wilderness areas in Alaska.
Hollywood has already been using drones in productions outside the United States, notably in the James Bond movie "Skyfall." Now they'll have the chance to use them for shoots that require something between what a crane and a helicopter can deliver.
The FAA was lobbied to approve drone use by the Motion Picture Association of America, led by former Senator Christopher Dodd (D-Connecticut), who said the move was "a victory for audiences everywhere as it gives filmmakers yet another way to push creative boundaries," according to The New York Times.
The move by the FAA also cracked the door open for companies touting drones for other applications to apply for permission to use the craft. Amazon has said it would like to use drones to deliver packages. Other companies wanting to take to the air include BNSF, which would like to use the craft to inspect its rail lines, and San Diego Gas and Electric. "This process opens up a whole new avenue for companies and organizations," FAA Administrator Michael Huerta said, according to Politico. "In addition, it's a major step forward in our plan for safe and staged integration."
So far, the rules for flying drones are pretty restrictive. They must be flown by a licensed pilot at altitudes of no more than 400 feet and they must be over a closed production set. The six companies so far allowed to fly drones are Astraeus Aerial, Aerial Mob, HeliVideo Productions, Pictorvision, Vortex Aerial, and Snaproll Media. A seventh company, Flying-Cam, is hoping to get permission to take to the air soon.
-Steve Straehley
To Learn More:
Why the FAA's Approval of Film Production Drones Goes Far Beyond Hollywood (by Clay Dillow, Fortune)
Drone Exemptions for Hollywood Pave the Way for Widespread Use (by Brooks Barnes, New York Times)
Lights, Camera, Drones (Kathryn A. Wolfe, Politico)
U.S. Transportation Secretary Foxx Announces FAA Exemptions for Commercial UAS Movie and TV Production (Federal Aviation Commission)
Colorado Town Drafts Ordinance Allowing Citizens to Shoot down Drones (by Danny Biederman and Noel Brinkerhoff, AllGov)
Federal Government Clashes with Commercial Drone Industry (by Matt Bewig, AllGov)
Senate Explores Private and Law Enforcement Use of Drones in U.S. (by Noel Brinkerhoff, AllGov)