Administrator of the Federal Aviation Administration: Who Is Michael Huerta?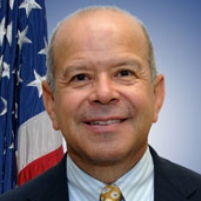 Born in California circa 1956 to Solomon T. Huerta and Della Montoya Huerta, Michael Huerta earned a B.A. in Political Science at the University of California at Riverside in 1978 and an M.A. in International Relations at Princeton University in 1980.
Huerta served as commissioner of New York City's Department of Ports, International Trade and Commerce from 1986 to 1989. In January 1989, he left to serve as the executive director of the Port of San Francisco, where he remained until 1993. From 1993 to 1998, he served in two senior positions at the Department of Transportation, first as an associate deputy secretary to Secretary Federico Peña from 1993 to 1997, and as chief of staff to Peña's successor, Rodney E. Slater.
Huerta left government to serve as managing director of the 2002 Olympic Winter Games in Salt Lake City, a position he held from 1998 to 2002, focusing in part on transportation issues. In 2001, he even registered as a lobbyist for the Salt Lake City Olympic Organizing Committee. While in Salt Lake City, Huerta worked closely with presumptive Republican 2012 nominee Mitt Romney, who was president and CEO of the 2002 Games.
After the games were finished, Huerta went to work as group president of the Transportation Solutions Group at Affiliated Computer Services, a Xerox subsidiary specializing in business processes and information technology, from 2002 to April 2009.
Huerta is married to Ann Sowder, and they have a son, Matthew. A lifelong Democrat, since 1990 Huerta has contributed $30,000 to political candidates and causes, all but one of them Democrats, including $6,500 to the Democratic National Committee, $750 to President Bill Clinton's 1996 re-election campaign, $2,300 to Hillary Clinton's campaign in 2007, and $2,300 to Barack Obama's campaign in 2008. Huerta's lone Republican contribution was to Mitt Romney's 2008 primary campaign, to which Huerta donated $2,300.
-Matt Bewig
2002 Olympics Official Michael Huerta Flies toward No. 2 FAA Job (by Lee Davidson, Deseret News)