GM Executives Avoid Prosecution for 124 Deaths Caused by Cover-Up of Faulty Ignition Switches
Monday, September 21, 2015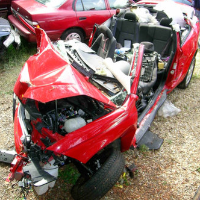 Faulty ignition switch in this GM car resulted in the death of a 16-year-old (photo: National Highway Traffic Safety Administration)
The Obama administration has once again allowed a big corporation to buy its way out of jail.
This time, the corporation is General Motors, which on Thursday was fined (pdf) $900 million for covering up its faulty ignition switches that caused at least 124 deaths.
The company, which is charged with wire fraud and a scheme to mislead a government regulator, also scored an agreement with the government that allows prosecution to be delayed for three years. During that time, its safety practices will be subject to independent monitoring. "If G.M. adheres to the agreement…the company can have its record wiped clean," wrote The New York Times' Danielle Ivory and Bill Vlasic.
"I don't understand how they can basically buy their way out of it," Margie Beskau, whose daughter Amy Rademaker was killed in an October 2006 crash, told the Times. "They knew what they were doing and they kept doing it."
Thousands of GM cars built from 2005 to 2010 had the faulty ignition switch, which could cause the car's engine to switch off without warning. GM engineers knew early on that the switch was problematic, but didn't start using a replacement for several years and didn't begin recalling affected vehicles until February 2014.
The Justice Department's agreement with GM echoes other deals it has made with big corporations, such as banks, where intentional wrongdoing by corporate executives and their employees did not result in any jail sentences. This comes despite an announcement earlier this month by Attorney General Loretta Lynch that the Justice Department would begin prosecuting individuals, not just corporations.
"So much for the Justice Department's new strong policy on individual prosecution," University of Maryland Law Professor Rena Steinzor told Corporate Crime Reporter. "This settlement is shamefully weak. A GM engineer knew about the fatal defect even before the first car rolled off the line. He secretly changed the part in 2005 but left hundreds of thousands of cars on the road with the bad switch. GM lawyers conspired to delay the recall. Much harsher penalties and individual prosecutions are warranted. The deferred prosecution is a toothless way of approaching a very serious problem."
The $900 million fine is 25% less than the $1.2 billion Toyota had to pay last year for making deceptive statements about safety issues in its vehicles, which lead to the deaths of motorists.
Auto safety advocates were livid. "GM killed over 100 people by knowingly putting a defective ignition switch into over one million vehicles," Clarence Ditlow of the Center for Auto Safety told Corporate Crime Reporter. "Yet no one from GM went to jail or was even charged with criminal homicide… GM has paid millions of dollars to its lobbyists to keep criminal penalties out of the Vehicle Safety Act since 1966. Today thanks to its lobbyists, GM officials walk off scot free while its customers are six feet under."
The deal with GM was cut by U.S. Attorney for the Southern District of New York Preet Bharara, who said there's no federal criminal penalty for knowingly putting a deadly product on the market. "It has been a challenging case, for the agencies, for the prosecutors and for me," Bharara said.
Probably not as challenging as it has been for Margie Beskau.
-Steve Straehley
To Learn More:
Critics Rip GM Deferred Prosecution Agreement in Engine Switch Case (Corporate Crime Reporter)
$900 Million Penalty for GM's Deadly Defect Leaves Many Cold (by Danielle Ivory and Bill Vlasic, New York Times)
GM Settles Ignition-Switch Debacle With Feds (by Adam Klasfeld, Courthouse News Service)
U.S. vs. $900,000,000 in U.S. Currency (U.S. Southern District Court of New York) (pdf)
Ignition Recall Safety Information (General Motors)
Survivors of Victims of Faulty GM Ignition Switches Face Difficulties Finding Lawyers to Take their Cases (by Noel Brinkerhoff, AllGov)
GM Ignition Switch Confirmed Death Toll Rises to 19 (by Noel Brinkerhoff, AllGov)