Survivors of Victims of Faulty GM Ignition Switches Face Difficulties Finding Lawyers to Take their Cases
Wednesday, December 31, 2014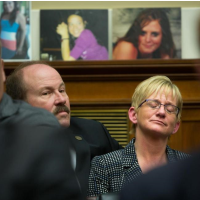 Ken and Jayne Rimer, parents of Natasha Weigel, who died in GM car crash (photo: Allison Shelley, Getty Images)
Relatives of those killed in General Motors' automobiles containing defective ignition switches are having a tough time getting their day in court because some attorneys won't take their cases.
It's not that the trial lawyers are afraid of taking on GM and its legal army. Rather, some firms say tort reform laws have made such cases economically unattractive for them.
After all, lawsuits against an auto manufacturer are likely to drag on for years, requiring considerable time and billing hours that can only be justified if there is the potential for a big settlement down the road. And in states like Wisconsin and others, legislatures adopted laws capping noneconomic awards, like for pain and suffering, which scaled back the size of the payoff trial lawyers used to receive.
For the family of 18-year-old Natasha Weigel, who died after her GM-made car's ignition switch shut off just before her fatal accident, getting a lawyer to help them sue GM has proven challenging. The firm Habush, Habush & Rottier turned down the Weigels in 2007, saying the state's cap of $350,000 for "maximum recovery for loss of society in Wisconsin and the extreme expense of litigating the case against General Motors" left them disinclined to get involved.
The changes in tort law were made years ago, The New York Times reported, after "companies, insurers and others" convinced "state lawmakers to pass measures that would reduce awards and limit filings."
At least 42 people are known to have died in in automobile accidents that have been linked to GM's defective ignition switches. The automaker has received 2,326 claims total—of which 251 are for deaths.
Public disclosure of the problem began with a lawsuit against GM filed in Georgia…a state that imposes no caps on damages that can be collected in product liability cases.
-Noel Brinkerhoff
To Learn More:
Victims of G.M. Deadly Defect Fall Through Legal Cracks (by Barry Meier and Hilary Stout, New York Times)
GM Ignition Switch Defect Death Toll Rises To 42 (by Kurt Orzeck, Law 360)
Delays and Mismanagement of GM Recall Repairs Result in More Motorist Deaths (by Noel Brinkerhoff and Steve Straehley, AllGov)
GM Ignition Switch Confirmed Death Toll Rises to 19 (by Noel Brinkerhoff, AllGov)