GM Ignition Switch Confirmed Death Toll Rises to 19
Thursday, September 18, 2014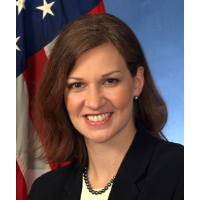 Nicole Nason, National Highway Traffic Safety Administrator 2006-2008
The number of people General Motors admits died as a result of its faulty ignition switches increased by nearly 50% on Monday.
Kenneth Feinberg, hired earlier this year by GM to run the program that compensates victims of ignition-related crashes, said this week that the death toll has reached 19 individuals. GM executives previously would confirm only 13 deaths.
Feinberg also said his office still has more than 100 death claims to review, which means "the total is almost certain to grow," The New York Times reported. Other claims involving injuries are also being evaluated by Feinberg. Injured parties have until December 31 to file a claim.
The deaths and injuries are blamed on an ignition switch that can fail, turning off the car's engine and leaving air bags, power steering and power brakes inoperable. GM has been charged with knowing of the switches' problems for years and doing nothing to fix them.
An investigation by The Times also pinned some blame on the National Highway Traffic Safety Administration (NHTSA), which was found to have a history of responding slowly to such problems. The "agency was tentative to act, slow to identify problems and reluctant to use its full legal powers against the industry it regulates," Hilary Stout and Aaron Kessler reported.
The NHTSA also has come under intense criticism from lawmakers on Capitol Hill, who have demanded regulators take some of the blame for allowing so many people to die because of the years-long problem. Senator Claire McCaskill (D-Missouri) accused agency leaders of being "more interested in singing 'Kumbaya' with the manufacturers than being a cop on the beat," she said at a congressional hearing.
After the NHTSA's chief operating officer, Deputy Administrator David Friedman, tried to pin the blame for the deaths and on the failure of the agency to find their cause on GM, McCaskill added: "You want to obfuscate responsibility, rather than take responsibility."
"We've all said shame on GM" she said, "You've got to take some responsibility that this isn't being handled correctly."
The NHTSA administrator who refused to open an investigation into the ignition switch problem in 2007 was Nicole Nason, a George W. Bush appointee who had previously lobbied for the administration to ignore the regulations the NHTSA was supposed to be enforcing.
-Noel Brinkerhoff
To Learn More:
Senators Take Auto Agency to Task Over GM Recall (by Hilary Stout and Aaron Kessler, New York Times)
General Motors Defect Now Faulted in 19 Deaths (by Hilary Stout, New York Times)
General Motors Orders 30th Recall of the Year (and it's only May) (by Noel Brinkerhoff and Danny Biederman, AllGov)
National Traffic Safety Administration Failed to Protect Americans from Lethal G.M. Ignition Switch (by Noel Brinkerhoff, AllGov)