First Soda Tax Law in U.S. Leads to 21% Drop in Soda Drinking
Thursday, August 25, 2016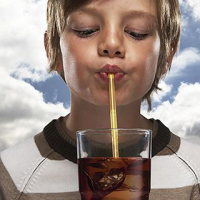 (photo: Tim Macpherson, Getty Images)
By Margot Sanger Katz, New York Times
It may seem obvious that taxing sugary drinks causes people to drink less of them. But that is actually controversial.
Now a new study out of Berkeley, California, adds to the evidence that our intuition is right.
Researchers followed residents of several low-income communities in Berkeley, San Francisco and Oakland around the time that Berkeley voters passed the country's first big soda tax in 2014. The study found that, in the four months after the tax took effect last year, self-reported consumption of sugary drinks fell by 21 percent in the Berkeley neighborhoods, but rose by 4 percent in the other two cities.
The study, published in The American Journal of Public Health on Tuesday, also found that the Berkeley residents reported drinking more water, a sign that they were replacing sugar-sweetened beverages with something healthier.
The research was conducted using in-person surveys of neighborhood residents, a method with some problems because people are not always accurate in describing their diets. But the study is the first to assess soda drinking since the tax went into effect. And its results are consistent with research from Mexico, which passed a nationwide soda tax in 2014. In that country, sugary drink sales fell by about 17 percent among the poorest households by the end of a year.
Other research will most likely clarify the precise size of the effect. But the study seems to confirm that a soda tax will encourage low-income consumers to choose different beverages.
"At least in one city, we have found evidence that a sugar-sweetened beverage tax reduced consumption in disadvantaged communities," said Jennifer Falbe, a postdoctoral research fellow at the University of California, Berkeley School of Public Health, and one of the paper's authors.
The soft drink industry criticized the study for its survey methodology, and noted that even the recorded drop in consumption was unlikely to have a big effect on public health.
"The authors of this street survey acknowledge that it had a number of flaws, and there is no indication that the tax had or will have a measurable impact on public health," said William Dermody, a vice president for policy at the American Beverage Association, an industry trade group.
Sugary beverages — including carbonated drinks, fruit drinks, energy drinks, sports drinks and iced teas — have been linked to obesity, diabetes and tooth decay. Supporters of the taxes argue that discouraging consumption of such drinks could help reduce the toll of those ailments.
But because Berkeley is the first American city to pass such a tax, the health effects of the policy are only theoretical. Studies using mathematical models show that soda taxes are likely to have small but measurable effects on public health. But the precise effects will most likely depend on which people cut back in response to a tax, and whether people make up for lost calories in some other part of their diet.
The researchers said they cannot be sure that the reduced consumption of sugary drinks was a result solely of the tax, which amounted to less than a 1-cent-per-ounce price increase at the cash register. People also became more aware of the health issue during the debate around the tax's passage and the city's efforts to discourage sugary drink consumption around the same time.
The survey also found that few people reported leaving city limits to avoid the tax. Only about 2 percent of people in the survey said they were buying drinks outside Berkeley because of the tax. Berkeley is adjacent to Oakland and across the bay from San Francisco.
Critics of local soda taxes have argued that they may disproportionately disadvantage local businesses, because shoppers can go elsewhere. In these communities, that did not seem to happen. The pattern, however, may be different in higher-income neighborhoods, where residents are more likely to have cars and to buy drinks at grocery stores instead of corner bodegas.
When Berkeley passed its soda tax, it stood alone among cities in the United States for embracing the policy. But that has changed: Philadelphia passed a soda tax this year, and several other American cities are putting similar taxes on the ballot this fall. Among them are two of Berkeley's neighbors, Oakland and San Francisco.
Barry Popkin, a professor of nutrition at the University of North Carolina at Chapel Hill, who worked on the Mexico research, says the Berkeley results may presage a bigger effect in Philadelphia, a city where consumption of sugary soft drinks is more common and where there are many more low-income residents who may be sensitive to such a price increase.
To Learn More:
Impact of the Berkeley Excise Tax on Sugar-Sweetened Beverage Consumption (by Jennifer Falbe, ScD, MPH, Hannah R. Thompson, PhD, MPH, Christina M. Becker, BA, Nadia Rojas, MPH, Charles E. McCulloch, PhD, and Kristine A. Madsen, MD, MPH) (abstract)
Mexico Soda Tax Experiment Provides Ammunition for U.S. Tax Advocates (by Noel Brinkerhoff, AllGov)
Soda Industry Reacts to Plunging Sales (by Steve Straehley, AllGov)
Big Battle in the Soda Tax War (by Noel Brinkerhoff, AllGov)
Soda Tax Health Benefits Would Help Minorities the Most (by Ken Broder, AllGov California)