Mexico Soda Tax Experiment Provides Ammunition for U.S. Tax Advocates
Wednesday, October 21, 2015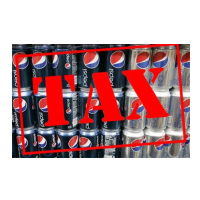 (photo: Paul Sakuma, AP)
Supporters of taxing soft drinks in the U.S. can now point to Mexico as proof that such plans can discourage people from buying the sugary beverages.
Two years ago, Mexico adopted a 10% soda tax on distributors, which produced a "substantial increase in prices and a resulting drop in the sales of drinks sweetened with sugar, particularly among the country's poorest consumers," according to The New York Times' Margot Sanger-Katz.
"The long-term effects of the policy remain uncertain," Sanger-Katz wrote, "but the tax is being heralded by advocates, who say it could translate to the United States."
"It's exactly what we thought the tax would do," Barry Popkin, a professor of nutrition at the University of North Carolina, who led the research, told the Times.
Advocates here have argued that one way to help reduce obesity is to tax sodas, making them more expensive to purchase. The key is to put the tax on the producer, so the price of the drinks is raised, rather than treating it like a sales tax, which is added on to the price.
Although it was too soon for the study of Mexico's tax to draw conclusions about fighting obesity, it did show the effects of the tax on sales.
"Over the course of last year, there was an average 6 percent decrease in soda sales, and the effect appeared to intensify as the year wore on," Sanger-Katz reported.
By last December, sales were down 12% compared with December 2013. "The declines were the biggest for lowest-income Mexicans — as large as 17 percent in December — suggesting that it was the prices, and not publicity around the tax, that was making the difference," Sanger-Katz wrote.
-Noel Brinkerhoff
To Learn More:
Yes, Soda Taxes Seem to Cut Soda Drinking (by Margot Sanger-Katz, New York Times)
Preliminary Results on the Effects of Weight to Tax Sugary Drinks in Mexico (Instituto Nacional de Salud Pública)
Soda Industry Reacts to Plunging Sales (by Steve Straehley, AllGov)
Big Battle in the Soda Tax War (by Noel Brinkerhoff, AllGov)
Soda Tax Health Benefits Would Help Minorities the Most (by Ken Broder, AllGov California)