Soda Industry Reacts to Plunging Sales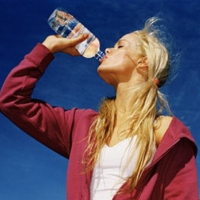 (photo: Andrew O'Toole, Getty Images)
Soda consumption in the United States has lost its pop.
Sales of full-calorie soda have dropped 25% in the past two decades after a sharp increase from the 1960s to the 1990s. Americans are increasingly turning to other beverages, such as water, to quench their thirst, according to The New York Times.
The sales drop has been fueled by increased concern about obesity, particularly among children. Many school districts have banished soda sales from campuses. Cities including New York, Philadelphia and San Francisco have sought to restrict sales of soda in one way or another, but have been largely stymied. Ultra-liberal Berkeley, Calif., does have a soda ban, but even where city officials have been unsuccessful in implementing one, they've encouraged their citizens to think before blindly popping the top of a soda can.
Philadelphia Mayor Michael Nutter has taken a lead role in discouraging soda consumption. "It's a fight every day, and you just have to stick with it," Nutter told the Times. "You can't give up, because it's just really important."
Nutter has been at least partly successful. Soda consumption among teens dropped 24% from 2007 to 2013 in Philadelphia, compared to 20% nationwide. The city's public health department has also reported a decline in childhood obesity in that city.
"The drop in soda consumption represents the single largest change in the American diet in the last decade and is responsible for a substantial reduction in the number of daily calories consumed by the average American child," wrote the Times' Margot Sanger-Katz. "From 2004 to 2012, children consumed 79 fewer sugar-sweetened beverage calories a day, according to a large government survey, representing a 4 percent cut in calories over all. As total calorie intake has declined, obesity rates among school-age children appear to have leveled off."
Soda company officials are doing what they can to keep profits up in the face of their decline in sales. Most companies are selling bottled water, although those products don't enjoy the same brand loyalty that sodas do. Sodas made with real sugar, as opposed to high-fructose corn syrup, and sodas in smaller packages have also been introduced.
"It's been a really challenging decade. It would have been a lot rougher if not for bottled water," Beverage Digest publisher John Sicher told a gathering of industry executives.
Indeed, some industry projections show bottled overtaking soda as the leading beverage category in two years, according to the Times.
As tobacco companies did when their U.S. market dried up (or died), soda makers are looking overseas for new customers. For instance, soda sales jumped 60% in Mexico between 1989 and 2006, according to TakePart. By 2013, Mexicans were individually consuming an average 46 gallons of soda per year, compared to 31 gallons for Americans.
-Steve Straehley
To Learn More:
The Decline of 'Big Soda' (by Margot Sanger-Katz, New York Times)
Americans Are Ditching Soda in Droves, but here's Why Bottlers Aren't Worried (by Liz Dwyer, TakePart)
Federal Judge Gives Go-Ahead to Class Action Lawsuit against Pepsi for Exceeding California Carcinogenic Substance Limit (by Noel Brinkerhoff and Danny Biederman, AllGov)
Big Battle in the Soda Tax War (by Noel Brinkerhoff, AllGov)