FBI Uses Fake Companies to Run its Own Air Force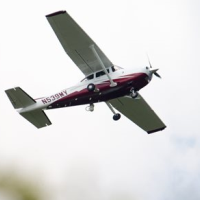 FBI surveillance plane with visible antennas on its underbelly (photo: Andrew Harnik, AP)
The Federal Bureau of Investigation (FBI) has its own fleet of planes it uses for surveillance, according to the Associated Press.
The planes, at least 50 and perhaps more than 100, are mostly registered with fake companies such as FVX Research, KQM Aviation, NBR Aviation and PXW Services. The FBI told the AP that the front companies are used to protect the safety of the pilots.
The planes managed in just one month to conduct more than a hundred flights in 11 states. The missions targeted both large cities and unincorporated areas, the AP reported. The planes carry high-tech cameras and sometimes even sophisticated equipment that can track cell phones, raising questions of whether this surveillance has violated people's privacy.
"It's important that federal law enforcement personnel have the tools they need to find and catch criminals," Senator Charles Grassley (R-Iowa), chairman of the Senate Judiciary Committee, told the AP. "But whenever an operation may also monitor the activities of Americans who are not the intended target, we must make darn sure that safeguards are in place to protect the civil liberties of innocent Americans."
The Washington Post reported that the FBI's air force was in the skies over Baltimore early last month during the recent protests of the death of Freddie Gray in the hands of that city's police department. Two planes—one a small propeller plane and the other a business jet—flew in specific patterns over the city at night, using infrared technology to keep an eye on the protests.
In addition to the FBI, other federal law enforcement agencies operate their own air forces, including the Drug Enforcement Administration, with more than 90 planes as of 2011, and the U.S. Marshals Service.
Washington, D.C.-based FVX Research, which bears the name of one of the front companies used by the FBI for its plane registrations, has posted on its website a vigorous denial of association "in any way, shape, or form with the Federal Bureau of Investigations or commonly known as (FBI) or any governmental entity. Our brand and identity is being used in slanderous allegations, and we are working closely with our legal resources to combat this."
-Noel Brinkerhoff
To Learn More:
FBI Behind Mysterious Surveillance Aircraft Over US Cities (by Jack Gillum, Eileen Sullivan and Eric Tucker, Associated Press)
Fleet of Government Aircraft Flying Secret Missions over U.S. Cities (Medium)
The FBI's Secret Air Force Watched the Streets of Baltimore (by Sean Gallagher, Ars Technica)
Surveillance Planes Spotted in the Sky for Days after West Baltimore Rioting (by Craig Timberg, Washington Post)