Secretary of the Department of Education: Who Is Betsy DeVos?
Wednesday, January 04, 2017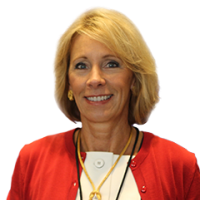 Betsy DeVos (photo: School Choice Week)
For the first time in U.S. history, the vice president of the United States cast a tie-breaking vote in the U.S. Senate to confirm the president's nomination for a Cabinet post.
In a highly contentious and ultimately historic confirmation battle, the Senate—with the help of Vice President Mike Pence—fulfilled President Donald Trump's desire to fill the Education Secretary position with a billionaire heiress with no training or experience in education who advocates privatizing the public school system despite having never attended public schools nor allowing her children to do so. On February 7, 2017, Betsy Prince DeVos was confirmed as Trump's choice for secretary of education.
Senators heard from many thousands of Americans, including educators, teachers unions and even charter organizations, who opposed the nomination, but it wasn't quite enough. Two Republican defections and an all-night vigil filled with speeches by outraged Democrats brought the tally to a 50-50 split, which was one vote short in preventing Pence from tilting the tie in favor of DeVos's confirmation.
Elisabeth Prince was born on January 8, 1958, in Holland, Michigan, to Elsa (Zwiep) Prince and Edgar Prince, a businessman who founded Prince Corporation, an automobile parts supplier based in Holland, Michigan. He sold the business in 1996 for $1.35 billion. Edgar Prince also founded, with Gary Bauer, the Family Research Council , which the Southern Poverty Law Center classifies as a hate group for its advocacy against gays and other sexual minorities.
DeVos' younger brother, Erik Prince, founded Blackwater USA, a private military firm that lost its US-created license to operate in Iraq after a series of incidents, including a 2007 shooting in which Blackwater mercenaries killed seventeen Iraqi civilians.
Betsy DeVos graduated Holland Christian High School in 1975. In 1979, she earned a B.A. in the economics group at Calvin College in Grand Rapids, Michigan, a small, fundamentalist Christian school where, as recently as 2011, a biology professor was forced out after affirming a belief in evolution. At Calvin, DeVos was "involved with campus politics," according to a puff piece in Philanthropy magazine.
In 1979, Betsy married Dick DeVos, son and heir of Richard DeVos, the founder of multilevel-marketing company Amway. The younger DeVos ran Amway's parent company, Alticor, from 1993 to 2002, and was the defeated 2006 Republican nominee for governor of Michigan.
Although it is not clear whether Betsy DeVos has ever had a normal job, she is on the Board of the Windquest Group, a private equity firm she and her husband founded that invests in technology, manufacturing, and energy.
Mostly, Betsy DeVos has spent her adult life as a political activist for conservative candidates and causes. Since 1982, she has been a large and active donor to the Republican Party, serving as a Republican national committeewoman for Michigan from 1992 to 1997, as chairwoman of the state party from 1996 to 2000, and 2003 to 2005, and as finance chairman for the National Republican Senatorial Committee. DeVos raised more than $150,000 for the 2004 Bush re-election campaign, and in October 2008 hosted a GOP fundraiser at her home that was headlined by President George W. Bush.
But Betsy DeVos is best known for advocating "school choice" schemes like charter schools and tuitions vouchers that would gradually privatize public schools and allow them to be more religiously oriented. Charter schools, which can be public or private, are run outside the usual school district bureaucracy, while tuition vouchers use tax dollars to pay private, often religious, school tuition.
DeVos has been called "the four-star general of the pro-voucher movement," and she once compared her work in education reform to a biblical battleground where she wants to "advance God's Kingdom."
Although Michigan voters in 2000 rejected a tuition voucher proposal backed by DeVos and her family to the tune of more than $5.7 million, she responded by taking her crusade to a national battlefield. Through several front organizations, including the American Federation for Children, the American Education Reform Council, the Alliance for School Choice, All Children Matter, and the Great Lakes Education Project, she helped to bankroll several pro-voucher or pro-charter school efforts around the country that managed to succeed.
DeVos's greatest successes have come with charter schools. In 1994, she and her family were crucial supporters of a measure that allowed numerous state entities in Michigan to issue charters to schools that could then get tax dollars. As a result, Michigan today has a large number of charter schools, and also the most lax oversight. In fact, in 2011 DeVos' Great Lakes Education Project lobbied for a law that further deregulated Michigan's charter schools. The result was a flood of new for-profit management companies, so that about 80 percent of Michigan charter schools are run by for-profits, much higher than anywhere else in the country.
But all that profit-making is leaving children behind, especially in Detroit, where more students are in charter schools than traditional ones. By 2015, a federal review of Michigan charter schools found an "unreasonably high" number of them were among the worst-performing 5% of public schools statewide. In June 2016, a withering exposé by Kate Zernike in The New York Times concluded that the almost total lack of state oversight had created a system with "lots of choice, with no good choice."
But when the Republican-controlled state senate voted to require charters to meet the same sort of minimal requirements as public schools, the DeVos family fought back with a lobbying effort so intense legislators complained about it. Five days after the Michigan State Senate reversed its vote, the DeVoses began doling out $1,450,000 to GOP lawmakers over a seven-week period.
Betsy DeVos has also been involved in supporting the arts. DeVos was appointed by President George W. Bush to the board of directors of the Kennedy Center for the Performing Arts in 2004, serving until 2010. During that time, she and her husband provided funding to create the DeVos Institute of Arts Management at the University of Maryland, which teaches arts managers and boards how to fundraise and manage their institutions. Since 2009, she has sponsored ArtPrize, an international art competition held in Grand Rapids, Michigan.
Betsy and Dick DeVos have two daughters and two sons: Rick, Elissa, Andrea and Ryan. They own a yacht, as well as mansions in Grand Rapids, Ada, and Holland, Michigan; and Vero Beach, Florida. The compound in Ada generated a bit of controversy when the Detroit News reported that the couple had tried to avoid paying property taxes—which go to public schools—on it by claiming it was their "100% principal" residence, which it was not.
-Matt Bewig
How Trump's Education Nominee Bent Detroit to Her Will on Charter Schools (by Kate Zernike, New York Times)
Trump taps Betsy DeVos, school choice leader, for education secretary (by Todd Spangler and Lori Higgins, Detroit Free Press)
Trump picks Betsy DeVos for education secretary post (by Chad Livengood, Jonathan Oosting and Michael Gerstein, Detroit News)
Betsy DeVos and her big-giving relatives: Family qualifies as GOP royalty (by Jack Noland and Anna Massoglia, OpenSecrets)
Trump's Billionaire Education Secretary Has Been Trying to Gut Public Schools for Years: Meet Betsy DeVos, the anti-union, pro-voucher surprise nominee (by Kristina Rizga, Mother Jones).
Michigan spends $1B on charter schools but fails to hold them accountable (by Jennifer Dixon, Detroit Free Press)