Chief of Air Force Sexual Assault Prevention Unit Charged with Sexual Assault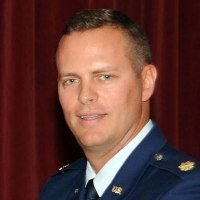 Lt. Col. Jeff Krusinski (photo: Ronnie Hill, U.S. Air Force)
The U.S. military's effort to reduce sexual assaults suffered an embarrassing setback this week when the Air Force's top official charged with preventing such crimes was arrested—for sexual assault.
Police in Virginia arrested Lieutenant Colonel Jeff Krusinski, head of the Sexual Assault Prevention and Response Office, after he allegedly approached a woman in a parking lot in Arlington and grabbed her breasts and buttocks. The police report said Krusinski was drunk, and that the woman scratched his face while fighting him off.
The 41-year-old officer was charged with sexual battery, and was removed from his post pending an investigation by the Air Force.
Secretary of Defense Chuck Hagel expressed "outrage and disgust" after learning of the allegations against Krusinski. Hagel said the "matter will be dealt with swiftly and decisively," according to a statement released by the Pentagon.
At a U.S. Senate hearing Tuesday, Air Force chief of staff Gen. Mark Welsh III was asked by Sen. Claire McCaskill (D-Missouri) how Krusinski was selected for his position as head of the Assault Prevention office. Welsh noted that there had been no red flags relating to Krusinski's past. "His record is very good," he insisted.
The arrest follows years of complaints about the U.S. military failing to take sexual assaults seriously. Only last month, the Air Force was criticized after a general reversed a guilty verdict in a sexual assault case.
More recently, it came out that the Air Force has been telling women in the service to not fight back in some instances of sexual assault.
Spencer Ackerman of Wired reported on a brochure given to Air Force personnel that states: "It may be advisable to submit [rather] than resist [when being attacked]. You have to make this decision based on circumstances. Be especially careful if the attacker has a weapon."
The brochure was described as "an affront to victims" by Brian Purchia, spokesperson for the advocacy group Protect Our Defenders. "The military's sexual assault prevention campaigns are rooted in a wrong-headed 1950′s paradigm….Fundamental reforms are needed."
In addition, the Pentagon's latest annual report (pdf) on sexual assaults in the military found that 6.1% of all female service members and 1.2% of enlisted men have experienced unwelcome sexual contact. It also shows that the number of people who made an anonymous claim that they were sexually assaulted, but never reported the attack, soared from 19,000 in fiscal year 2011 to 26,000 in fiscal year 2012. That amounts to about 70 assaults per day. Of those 26,000, there were 3,374 cases reported, resulting in recommendations for punishment of 1,174 service members. Criminal charges were filed against 594 of them. Of the 460 cases completed to date, 238 individuals have been convicted of at least one charge of sexual assault.
All in all, less than 1% of the 26,000 military sexual assaults in 2012 have, to date, resulted in convictions.
Of special note in the Pentagon report is the fact that only 38% of military servicewomen who reported their sexual assault to superiors did not suffer retaliation for having done so.
At the Tuesday Senate hearing, Gen. Welsh dismissed a suggestion by Sen. Kristen Gillebrand (D-New York) that these cases be handled outside of the military chain of command. Given victims' well-justified fear of reprisals for reporting assaults, Sen. Gillebrand countered, "Could you surmise that it may well be that the victim has no faith in the chain of command on this issue?"
-Noel Brinkerhoff, Danny Biederman
To Learn More:
Military Sex Crimes Investigator Arrested as Congress Cracks Down (by Adam Klasfeld, Courthouse News)
Air Force Brochure Tells Sexual Assault Victims to 'Submit' (by Spencer Ackerman, Wired)
Air Force's Sex-Abuse Prevention Honcho Charged with Sexual Battery (by Jim Miklaszewski, Courtney Kube and Tracy Connor, NBC News)
Air Force Chief of Sexual-Assault Prevention Arrested on Sexual Battery Charges (by Spencer Ackerman, Wired)
Crime Report: Sexual Battery (Arlington County Newsroom)
Rape, Sexual Assault and Sexual Harassment in the Military: The Quick Facts (Service Women's Action Network) (pdf)
Sexual Assault Prevention and Response: Department Defense Annual Report on Sexual Assault in the Military, Vol. I (pdf)
Air Force General who Overturned Sexual Assault Conviction Says Accused was Too Good a Husband and Father to be Guilty (by Noel Brinkerhoff and David Wallechinsky, AllGov)
Air Force Version of Punishing Sexual Assault: No Promotion (by Matt Bewig, AllGov)
Air Force to Purge Work Spaces of Photos of Scantily-Clad Women (by Noel Brinkerhoff and David Wallechinsky, AllGov)