Charlotte No "Queen City" to Low-Income, Minority Residents
Monday, September 26, 2016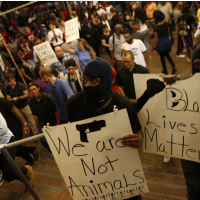 Charlotte protests--Credit: Brian Blanco/Getty Images
By Tom Foreman Jr. and Seanna Adcox, Associated Press
CHARLOTTE, N.C. — To much of the world, Charlotte is the Queen City — a gleaming downtown, state-of-the-art stadiums, sparkling new mass transit, the nation's banking capital.
But a very different Charlotte came into the spotlight in the past few days.
Move outside the city's core and there are neighborhoods such as the one where a black police officer shot and killed a black man, Keith Scott, setting off violent protests. Places where residents tire of seeing police only when teams of officers sweep in to make arrests, and remember well other blacks killed by police officers who did not face punishment.
Their anger at Scott's death made its way downtown. Rioting in Charlotte's center killed one protester, shattered windows and rattled finance executives whose salaries boost the city's median income to $10,000 above the national average. They told their workers in the skyscrapers to stay home.
To the protesters, home is a world away from those skyscrapers.
"For the people we serve, the Queen City is only the Queen City if you get on the train and ride into the glimmering, crystal core," said the Rev. Peter Wherry of Mayfield Memorial Missionary Baptist Church, about 5 miles from downtown.
Nearly all of Charlotte lies in Mecklenburg County, which the U.S. Census Bureau estimated had the largest increase in the country in the percentage of people living in distressed neighborhoods during the first 15 years of this century — an index that combines unemployment, poverty rates and other items, like how many businesses close.
Those pockets of poverty aren't immediately evident. Charlotte doesn't have many stereotypical slums. Instead, lower-rent housing is in apartment complexes or condominiums nestled behind tree-lined roads or off the main thoroughfares.
That's the kind of place where Scott lived. Tracy McLean lived in the condominium complex just down the road; she said teams of police frequently come to the neighborhoods full of black and Latino families in a show of force, looking for suspects they often don't find, instead of talking to residents and getting to know them.
"The fear needs to be dispelled," Tracy McLean said. "It's fear, and it's ridiculous fear."
In the mid-1990s, as Charlotte pushed to become a world-class city, its leaders cracked down on crime with a heavy-handed police force. Longtime African-American residents remember James Cooper, a 19-year-old black man killed by a white officer in 1996 as he reached back in his car window during a traffic stop to check on his 4-year-old daughter. The officer said he thought he had a gun.
They also remember Carolyn Boetticher, a passenger in a car that sped toward and then past white officers doing a license check in a high-crime neighborhood. Police fired 22 shots that came from the front, side and rear of the fleeing car. She was shot in the neck.
None of the officers faced criminal charges, but Charlotte created a citizen review panel for its police department.
And even when Charlotte police seem to get it right, the black community has been left feeling justice was not served. Jonathan Ferrell was a 24-year-old unarmed black man shot 10 times by white officer Randall Kerrick. Ferrell had just crashed his car in a suburban neighborhood and banged on a neighbor's door looking for help. She called 911.
Charlotte police charged Kerrick with voluntary manslaughter one day later. But the jury couldn't reach a unanimous verdict at his trial, and state prosecutors decided not to retry the case. There were peaceful protests then, which prompted headlines like, "How Charlotte Avoided Ferguson's Fate."
Activist Jibril Hough organized those peaceful protests. He said Charlotte's black community remembers Ferrell's death, and that pain has just been made worse by recent shootings in Tulsa, Oklahoma; Baton Rouge, Louisiana; and elsewhere.
"I think if Jonathan Ferrell would happen today instead of happening three years ago, you would get much of the same reaction as you've seen in the past 48 hours," he said. "It's been building, but it's not just what happened here in Charlotte. We have social media now, people see what's happening in other states."
Hough calls Charlotte "Oz," a city that cares about its appearance and the people who live in its $400,000 one-bedroom downtown condos and eat $50 steak lunches, but not about substance.
"When people come into town, they see nice, shiny buildings. But when it comes to working-class people, they don't put pressure on these businesses to say what are you going to do for the working class," Hough said.
The growing economic disparity in Charlotte and the recent violence is on the mind of Hugh McColl, the former CEO of Bank of America who was the most public face of a group of bank executives that relentlessly boosted Charlotte during its massive growth to a city on the world's stage over the past three decades.
If Charlotte wants to keep rapidly growing, it must provide affordable housing, a better standard of living and good paying jobs for people of all races and especially for children growing up in poor households, McColl said to the crowd during a free concert Friday by the Charlotte Symphony.
"Black lives do matter. All lives matter. Our children's lives matter, and their future matters a great deal," McColl said.
A similar message comes from the Rev. William Barber, president of the North Carolina NAACP.
When people work two jobs but don't make enough to own a home, they get discouraged, and seeing video after video of black men dying makes them lose hope and start to wonder if they matter to society, Barber said.
It reminded him of his lifeguard days, when Barber said he was warned that drowning people would violently fight off the swimmers trying to help them out of confusion and fear.
"The type of riots we are seeing in Charlotte is a systemic response for people who are drowning in injustice," he said.
Associated Press writer Jeffrey Collins contributed to this report.
To Learn More:
If Ferguson is 67% African-American, Why are the Mayor, the City Council Majority and 50 of 53 Police White? (by Noel Brinkerhoff and Steve Straehley, AllGov)
Outrage over Police Shooting Leads to 30% Increase in Voter Registration in Ferguson (by Steve Straehley, AllGov)
Foreclosure Crisis Increased Racial Segregation in U.S. (by Steve Straehley, AllGov)