Outrage over Police Shooting Leads to 30% Increase in Voter Registration in Ferguson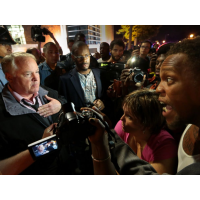 Ferguson police chief Tom Jackson speaks with protestors (photo: Robert Cohen, St. Louis Post-Dispatch, AP)
After the shooting of Michael Brown by Ferguson, Missouri, police officer Darren Wilson, people took to the streets to protest the killing of the unarmed teen in the predominately African-American city run by a white mayor and police chief and a majority-white city council.
But what might change things in Ferguson more than the marchers is the voter registration workers who flooded the city in the wake of the shooting. More than 3,000 of Ferguson's 21,000 residents have registered to vote since the August 9 shooting, according to USA Today. Nearly 5,000 new voters have registered in St. Louis County.
"It's a great move when people come out and register in mass like that," Anthony Bell, St. Louis 3rd Ward committeeman, told the paper. "They are sending a signal that we want a change. It doesn't give justice to the Michael Brown family, but it will in the future give justice to how the administration is run in a local municipality like Ferguson." Bell was one of those who began registering voters after Brown was killed.
About 12,000 residents were registered to vote in the latest election last April and only 1,484 actually voted. According to Fivethirtyeight, Mayor James Knowles was unopposed for re-election then and won with 1,314 votes.
"It could completely change the political landscape, the power structure, the decision making," Brown family attorney Anthony Gray said. "The service to the African American community would almost quadruple because they would be viewed as a credible and legitimate voting bloc."
Those wanting to keep the status quo are less enthusiastic about the new voters. Missouri Republican Party Executive Director Matt Wills decried the voter registration efforts, according to ThinkProgress. "If that's not fanning the political flames, I don't know what is," Wills said. "I think it's not only disgusting but completely inappropriate…Injecting race into this conversation and into this tragedy, not only is not helpful, but it doesn't help a continued conversation of justice and peace."
Registration is the easy part, of course. The trick will be to get Ferguson voters to come to the polls this November, when there is a race for St. Louis County Executive on the ballot, and next April when three Ferguson city council seats will be up for grabs.
-Steve Straehley
To Learn More:
Voter Registration In Ferguson Surges After Brown Killing (by Yamiche Alcindor, USA Today)
Ferguson's Elections Look Like They Are About to Change (by Harry Enten, Fivethirtyeight)
More Than 3,000 New Voters Have Registered In Ferguson Since Mike Brown's Death (by Carimah Townes, ThinkProgress)
This Is The Most Important Reform Ferguson Can Enact To Give Its Black Residents A Voice (by Ian Millhiser, ThinkProgress)
White Cops Policing Minority Communities…All Too Common (by Noel Brinkerhoff and David Wallechinsky, AllGov)
If Ferguson is 67% African-American, Why are the Mayor, the City Council Majority and 50 of 53 Police White? (by Noel Brinkerhoff and Steve Straehley, AllGov)