Chairman of the Election Assistance Commission: Who Is Matthew Masterson?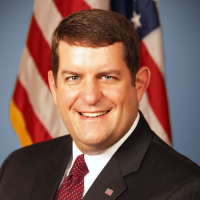 Matthew Masterson
Matthew V. Masterson was nominated for a seat on the Election Assistance Commission (EAC) by President Barack Obama on December 16, 2014. He was elected to chair the commission on February 24, 2017. Created in 2002, following the Florida voting machine debacle of the 2000 presidential election, the EAC is charged with creating voluntary voting system guidelines, accrediting voting system test laboratories, certifying voting equipment, and monitoring the billions of dollars disbursed to states to aid state and local governments with the administration of elections for federal offices.
Masterson is from Cincinnati, Ohio. The son of Vince and Pam Masterson, he was born circa 1980. He attended Mercy Montessori for middle school and St. Xavier High School. He then went to Oxford, Ohio, to attend Miami University, where he studied political science, earning B.A. and B.S. degrees. Masterson got his law degree at the University of Dayton in 2006.
Masterson went to work for the EAC that year, first as special assistant and counsel to Chairman Paul DeGregorio, then as deputy director for the commission's voting system and testing program. He helped develop voluntary voting system guidelines.
Since the job of the EAC is to ensure states comply with the Help America Vote Act of 2002, it's ironic that in 2011, Masterson went to work for Ohio Secretary of State Jon Husted. Husted has worked diligently to suppress the vote of Democratic-leaning voters in his state, particularly in the 2012 and 2016 presidential elections.
Masterson started in Husted's office in 2011 as deputy director of elections and in 2013 was made deputy chief of staff. He served briefly in 2014 as Husted's interim chief of staff.
In the midst of Masterson's tenure at the Ohio Secretary of State's office, in 2012, Husted cut early voting in Democratic areas while increasing hours in Republican strongholds. After a court ordered the hours restored, Husted told local election boards to ignore the court's ruling.
Eventually Husted backed down. He also ordered the trashing of provisional ballots, which are cast more often in urban, Democratic-leaning areas.
Masterson remained in Husted's office until taking his seat on the EAC, for which he was recommended by then-House Speaker John Boehner (R-Ohio).
Masterson and his wife, Joanna, have a son, Nathaniel, and a daughter, Lilah.
-Steve Straehley
To Learn More:
Four Ways Ohio's GOP Secretary Of State Is Trying to Swing the Election for Mitt Romney (by Ian Millhiser, Think Progress)