Chair of the U.S. Election Assistance Commission: Who Is Thomas Hicks?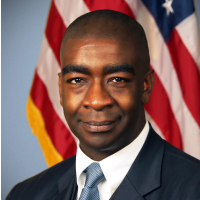 Thomas Hicks
Thomas Hicks served a one-year term as chair of the U.S. Election Assistance Commission (EAC) beginning in March 2016. He continued to serve on the Commission as vice-chair. The EAC is an independent bipartisan commission created after the 2000 presidential election debacle. Responsible for assisting states in complying with the standards and reforms set forth in the Help America Vote Act of 2002, the EAC is charged with creating voluntary voting system guidelines, accrediting voting system test labs, and certifying voting equipment. On February 7, 2017, the Republican majority on the Rules and Administration Committee of the House of Representatives voted to eliminate the EAC.
Originally nominated to the EAC by President Barack Obama in April 2010, Hicks was not confirmed by the Senate until December 2014—the longest wait of any Obama nominee.
Born circa 1970 Thomas Hicks grew up in Boston, He became interested in election law in 1988 when his mother, who had moved north from Georgia, brought him with when she cast her first ballot for president.
Hicks was the first person in his family to attend college, earning a B.A. in Government at Clark University in 1993, and a J.D. at the Columbus School of Law of the Catholic University of America in 1999. He also studied at the University of London and the University of Adelaide in Australia.
From 1993 to 2001, Hicks served as a special assistant and legislative assistant in the Office of Congressional Relations for the Office of Personnel Management (OPM).
From 2001 to 2003, Hicks worked as a senior lobbyist and policy analyst for Common Cause, a nonpartisan, nonprofit organization that empowers citizens to make their voices heard in the political process and to hold their elected leaders accountable to the public interest.
From October 2003 to November 2014, Hicks served as a senior elections counsel and minority elections counsel on the U.S. House of Representatives Committee on House Administration, responsible for issues relating to campaign finance, election reform, contested elections and oversight of both the EAC and Federal Election Commission. He also returned briefly to OPM to serve as a Congressional relations officer from November 2014 to January 2015.
Hicks has two daughters and one son.
-Matt Bewig
To Learn More:
Commissioner Says Effort to Dismantle EAC is "Out of Step" with U.S. Election Landscape (USEAC)
Want Honest Elections? Meet America's New Election Integrity Watchdog (by Dave Levinthal, Public Radio International)