Bradley Manning Jury will be Allowed to Hear Statements by Obama Downplaying Importance of WikiLeaks Documents…But only if Manning is Convicted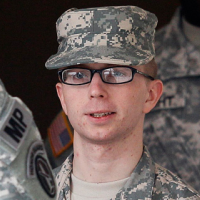 Bradley Manning Photo: Patrick Semansky, AP)
Statements by key federal officials—including President Barack Obama, Defense Secretary Robert Gates, and others—that the release of thousands of classified documents by online activist group WikiLeaks posed little or no threat to U.S. national security may be used by the defense in Pfc. Bradley Manning's military trial for treason, military judge Col. Denise Lind ruled Thursday.
Manning, 24, faces a life sentence if he is convicted of treason for allegedly sending the documents to Wikileaks, which included the following: 1) 251,287 State Department cables; 2) 91,731 reports from the war in Afghanistan; 3) 391,832 reports from the war in Iraq; and 4) footage of an airstrike in Baghdad on July 12, 2007, that killed 11 people, including two Reuters journalists.
The statements certainly undercut government assertions that the Internet publication of the documents on July 25, 2010, harmed the U.S. On July 27, Obama said in the White House Rose Garden: "While I'm concerned about the disclosure of sensitive information from the battlefield that could potentially jeopardize individuals or operations, the fact is these documents don't reveal any issues that haven't already informed our public debate on Afghanistan; indeed, they point to the same challenges that led me to conduct an extensive review of our policy last fall."
Several weeks later, Defense Secretary Robert Gates assured Sen. Carl Levin (D-Michigan) that the Pentagon could find no evidence that sources were compromised: "the review to date has not revealed any sensitive intelligence sources and methods compromised by this disclosure," Gates wrote.
Judge Lind also ruled that similar comments made to journalists by Gates, Secretary of State Hillary Clinton and Vice President Joe Biden will not be admitted, because "newspaper articles are not business records," and thus do not fit within the "business records" exception to the legal rule that hearsay statements may not be admitted in a jury trial.
A significant limitation on Judge Lind's ruling, however, is that Manning may not use the statements during the guilt phase of his trial—i.e., the part when the jury will determine if he is guilty or not guilty of treason—but only during the sentencing phase, when, if Manning is convicted, the jury will determine what his sentence will be.
-Matt Bewig
To Learn More:
Manning Jury Can Hear Some Obama Remarks (by Adam Klasfeld, Courthouse News Service)
Pentagon Documents Refer to WikiLeaks Members as Enemies of the United States…Equal to Al-Qaeda (by Matt Bewig, AllGov)
Military Judge Orders Obama Administration to Turn over Proof that WikiLeaks Documents Damaged National Security (by Noel Brinkerhoff and David Wallechinsky, AllGov)
Who Did More Harm to American Security, Bradley Manning or Scooter Libby? (by David Wallechinsky, AllGov)