Rate of Patients in Psychiatric Hospitals has Fallen to Level of 1850
Friday, December 28, 2012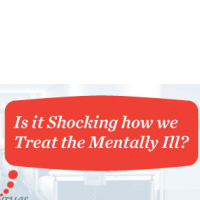 (graphic: University of British Colombia Alumni Affairs)
Either 21st century Americans are saner than ever before or we're too sick as a society to properly care for the mentally ill among us, but the fact is that fewer of us are receiving mental health care in psychiatric hospitals. According to "No Room at the Inn: Trends and Consequences of Closing Public Psychiatric Hospitals," a study by the Treatment Advocacy Center, per capita state psychiatric bed populations plunged in 2010 to 14 beds per 100,000 population, identical to 1850, when the movement to treat seriously mentally ill persons in hospitals began. The number peaked at 300 beds per 100,000 in 1950, and has been declining ever since.
Using data from the National Association of State Mental Health Program Directors (NASMHPD) Research Institute, Dr. E. Fuller Torrey and four co-authors show that just from 2005 to 2010, the number of state psychiatric beds decreased by 14%, from 50,509 to 43,318. Noting that states have continued to eliminate beds since 2010, the report concludes that "many states appear to be effectively terminating a public psychiatric treatment system that has existed for nearly two centuries. The system was originally created to protect both the patients and the public, and its termination is taking place with little regard for the consequences to either group."
Given the lack of hospital care, many of the most severely mentally ill, especially those whose conditions make it difficult for them to conform to social norms or control behaviors, wind up in hospital emergency departments, jails and prisons, all of which suffer as a result.
• Hospital emergency rooms are overcrowded with acutely ill patients who wait days or weeks for a psych bed to open; many are released without treatment.
• In some communities, as many as two-thirds of the homeless population is mentally ill, leading to frequent encounters with law enforcement.
• Jails and prisons are increasingly filled with the mentally ill, with some facilities reporting that one-third or more of their inmates are severely mentally ill.
Not surprisingly, the study found that states that cut funding for public hospitals experienced increased arrest-related deaths, as well as higher rates of violent crime generally, especially aggravated assault.
-Matt Bewig
To Learn More:
No Room at the Inn: Trends and Consequences of Closing Public Psychiatric Hospitals (by E. Fuller Torrey, M.D., et al., Treatment Advocacy Center) (pdf)
Newtown Shooting Put Spotlight on U.S. Mental Health Care–Again (by Sydney Lupkin, ABC News)