100 Women in Congress: A Milestone Tempered by Snail's Pace of Progress
Sunday, November 09, 2014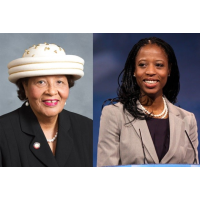 Alma Adams (D-North Carolina) and Mia Love (R-Utah)
Women in American politics broke a barrier in Tuesday's election: The number of women in Congress has exceeded 100 for the first time.
That's still far short of the 268 women that would be needed for there to be parity in Congress with the 51% of women in the general population. "This is still very slow growth," Debbie Walsh, director of the Center for American Women and Politics (CAWP) at Rutgers University, told The Washington Post. "If the goal is political parity for women—for women to be represented in Congress in proportion to their population—we're still not close."
In the U.S. House, women hold fewer than 20% of the seats (81 out of 435). That number might improve as four outstanding races that involve women are decided. The Senate will still have the same number of female senators—20—but that number could increase to 21 if Senator Mary Landrieu (D-Louisiana) survives a runoff next month. The honor of being the 100th woman in Congress goes to Rep. Alma Adams (D-North Carolina), who won a special election Tuesday and thus will take office immediately.
But women's positions of power might diminish in the Senate now that Republicans will be in the majority. Fewer women are expected to chair committees under the GOP since there are only six female Senators in that party and two of them, Joni Ernst of Iowa and Shelley Moore Capito of West Virginia, are newcomers.
-Noel Brinkerhoff
To Learn More:
More than 100 Women in Congress for the First Time, But Not Much Growth (by Jena McGregor, Washington Post)
100 Women in Congress? So What. (by Liza Mundy, Politico)
100 Women in Congress is not enough (by Frida Ghitis, CNN)
There Are 100 Women in Congress for the First Time Ever (by Holly Allen and Amanda Marcotte, Slate)
Women in the U.S. Congress (Center for American Women and Politics) (pdf)
U.S. Ranks behind 103 Countries in Percentage of Women in National Legislature (by Steve Straehley, AllGov)
5 States Still Have Never Elected a Woman to Congress (by David Wallechinsky and Noel Brinkerhoff, AllGov)
Number of Women in Congress Drops for First Time in 32 Years (by David Wallechinsky and Noel Brinkerhoff, AllGov)
Women in Congress Bring More Money to Their Districts than Men (by Noel Brinkerhoff, AllGov)