Women Found to Still Be Heavily Underrepresented in Media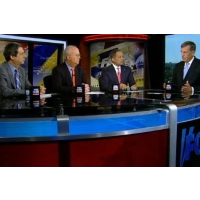 Fox News commentators (photo: Fox News Channel)
The most populous gender in America is still underrepresented in the U.S. media, according to a new study.
The Women's Media Center report (pdf) for 2015 shows that women fill only 30% to 40% of positions in the news business.
Women produce only 37.3% of news in the United States.
"Of the 10 most widely circulated newspapers, women write just 37 percent of all stories," Kali Holloway wrote at AlterNet of the report.
The numbers are even worse in television news. Women comprise only 32% of news anchors or reporters. Women are most likely to be producers, but as the prestige of a producing job increased, the likelihood of it being filled by a woman fell.
On Sunday television talk shows, women comprised only 14% of those interviewed and 29% of roundtable guests, according to the study.
Julie Burton, president of the Women's Media Center, wrote: "The bad news is stark and clear in nearly every media platform: We have a long way to go before we reach gender and racial/ethnic parity. If the top positions are still held by white males, this has an impact on the ability of women and minorities in the job market and general economic landscape. It also has a broader cultural impact of reinforcing biased stereotypes by defining fewer equal roles for all women and also for men of color in society."
-Noel Brinkerhoff, Steve Straehley
To Learn More:
We Need Lots More Women in Media, New Study Finds (by Kali Holloway, AlterNet)
The Problem (Women's Media Center)
The Status of Women in the U.S. Media 2015 (Women's Media Center) (pdf)
As Government Jobs Disappear, It's Women and African-American Men who are Hit the Hardest (by Noel Brinkerhoff, AllGov)
Women have Higher Unemployment Rate than Men for First Time in 8 Years (by Steve Straehley, AllGov)