Women have Higher Unemployment Rate than Men for First Time in 8 Years
Monday, November 17, 2014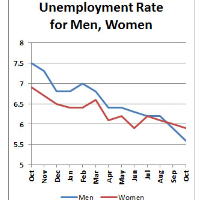 (graphic: Steve Straehley, AllGov)
It's good to be a man. At least it is if you're looking for work, because for the first time since 2006 the unemployment rate for men is lower than it is for women.
At one point during the Great Recession, the unemployment rate for men was as much as 2.6% higher than that of women. But beginning in September, according to data from the Bureau of Labor Statistics, men had a 5.9% unemployment rate while the women's rate stood at 6.0%. The gap widened last month when the men's rate fell to 5.6% while women's unemployment was at 5.9%.
Part of the reason for the switch is that construction jobs, concentrated among men, were particularly difficult to find during the financial crisis. Those jobs are starting to come back, although they are still well short of 2007 levels. Those in education and health services, two fields dominated by women, fared better with those jobs falling by only 4% during the recession.
More women than men are employed in the financial service industry, but the gap is narrowing. Compared to June 2007 levels, men hold 1.5% more jobs in that sector, while women hold 8.5% fewer positions.
The one age group in which women are doing better than men is among those 55 and older. There, the women's unemployment rate is 3.7% while the men's rate is 4.2%.
October also marked a high point for private-sector hiring. There were 61.3 million men employed in the private sector then, beating the previous high set in June 2007.
Another reason the men's unemployment rate is shrinking faster than that of women is the government emphasis on hiring veterans, who are predominately men. Vets get preference for many government jobs and some agencies even have quotas for hiring those who have served.
-Steve Straehley
To Learn More:
U.S. Men Make Employment Gains (by Floyd Norris, New York Times)
Labor Force Statistics from the Current Population Survey (Bureau of Labor Statistics)
Federal Push to Hire Veterans Reduces Jobs Available for Women (by Noel Brinkerhoff, AllGov)