Wisconsin Republicans Block Millions in Funding for Planned Parenthood
Saturday, February 20, 2016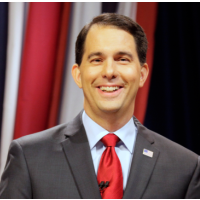 Gov. Scott Walker (photo: Darren Hauck, Getty Images)
(Reuters) - Wisconsin Republican Governor Scott Walker signed two bills into law on Thursday that block federal funding from Planned Parenthood and could cost the local organization millions of dollars.
Planned Parenthood of Wisconsin could lose about $7.5 million a year because of the measures, an organization spokeswoman said.
Texas, Louisiana other Republican-controlled states tried to halt funding for the reproductive health organization after an anti-abortion group released videos last summer purported to show Planned Parenthood officials trying to negotiate prices for aborted fetal tissue. Under federal law, donated human fetal tissue may be used for research, but profiting from its sale is prohibited.
A grand jury in Texas cleared Planned Parenthood of any wrongdoing and indicted two anti-abortion activists behind the filming of the videos for tampering with a government record and violating a prohibition on the purchase and sale of human organs.
One of the new Wisconsin rules requires the state to apply for federal "Title X" family planning grant money and to give those monies to "less controversial public entities" such as state, county and local health departments and clinics, a statement from Walker's office said.
Planned Parenthood is currently the only entity in Wisconsin receiving this federal money and the funds will not be sent to the organization, the statement said.
State entities providing abortions will now bill Medicaid only for acquisition costs and dispensing fees for prescription drugs.
Planned Parenthood of Wisconsin could lose roughly $4 million a year as a result of this measure, depending on patient volume and the type of birth control patients choose, organization spokeswoman Iris Riis said.
The legislation singles out Planned Parenthood and is an attempt to stop the organization from providing essential healthcare, the group said.
"The move was the latest in a long line of attacks by the Governor and the Republican controlled state Legislature on the health of Wisconsin women and families," the organization said in a statement.
Planned Parenthood of Wisconsin has 22 health centers in the state, three of which offer abortion services, according to its website.
Earlier this month, Ohio legislators approved a bill blocking state and federal funds for groups that perform or promote abortions, which cut $1.3 million annually used by Planned Parenthood clinics for HIV testing, pre-natal care and other programs.
States including Alabama, Utah and Arkansas have fought losing court battles over their plans to cut funding for local Planned Parenthood operations.
Reporting by Suzannah Gonzales in Chicago and Jon Herskovitz in Austin, Texas.
To Learn More:
Most Americans Favor Funding of Planned Parenthood (by Noel Brinkerhoff, AllGov)
No Women's Health Safety Net Would Fill Gap Left by a Defunded Planned Parenthood (by Noel Brinkerhoff, AllGov)
New Hampshire Official Who Voted to Defund Planned Parenthood Says "The Party Is Over" (by Noel Brinkerhoff, AllGov)