New Hampshire Official Who Voted to Defund Planned Parenthood Says "The Party Is Over"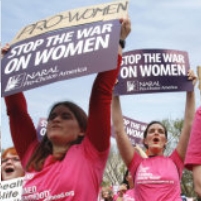 Having helped end funding for Planned Parenthood in New Hampshire, Republican Raymond Wieczorek made it clear what he thinks of the abortion provider and those seeking its services.
"I am opposed to abortion," Wieczorek told Reuters. "I am opposed to providing condoms to someone. If you want to have a party, have a party but don't ask me to pay for it."
Wieczorek is part of the state's executive council, an unusual political body in American state government that operates independently of the governor, but has the authority to approve funding for any government contract valued at more than $10,000.
In the case of funding for Planned Parenthood, the amount at stake was $1.8 million, all of which was axed by the GOP-controlled council.
The success by anti-abortionists followed a failed effort in the legislature, where Republicans have the majority, to eliminate financial support for Planned Parenthood.
As a result of the executive council's decision, the family-planning organization's local chapter has stopped giving out birth control pills and other contraception. An estimated 120 low-income women had prescriptions filled at Planned Parenthood each day at an average cost of $5.
New Hampshire, for now, has the lowest teen birth rate in the nation.
-Noel Brinkerhoff
New Hampshire Defunds Planned Parenthood, Tells Women: If You Want to Party, "Don't Ask Me to Pay for It"
(by Igor Volsky, ThinkProgress)