No Women's Health Safety Net Would Fill Gap Left by a Defunded Planned Parenthood
Friday, September 11, 2015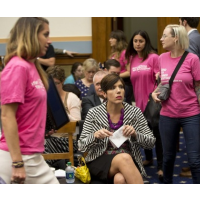 Planned Parenthood supporters arrive at House hearing as anti-abortion activist Melissa Ohdon, seated, waits to testify (photo: Pablo Martinez Monsivais, AP)
If Congress defunds Planned Parenthood, many low-income women could be left without health services despite claims by Republicans that other safety net options could fill the void.
Planned Parenthood, according to one analysis, handles a disproportionate number of patients who get a variety of services from the clinics. The organization makes up 10% of the nation's publicly funded family planning clinics, but serves 36% of the patients who go to them.
In 332 of the counties where it operates, Planned Parenthood serves at least half of the clients who rely on safety net providers, ThinkProgress reported.
The Guttmacher Institute determined of the 491 counties where Planned Parenthood clinics are located, 103 of them only have Planned Parenthood to serve low-income patients when it comes to affordable contraceptive services.
"There are an estimated 1,200 community health centers across the United States that use taxpayer dollars to serve low-income patients. But experts have long said that it's naive to assume they can pick up all of the patients currently served by Planned Parenthood clinics," ThinkProgress reported.
"In many communities, there are not other health care providers that would be equipped to fill the void created by the prohibition of funding for a qualified, trusted family planning provider," Clare Coleman, head of the National Family Planning and Reproductive Health Association, said.
Planned Parenthood provides such health care as cancer screenings, STD tests, and birth control to patients who would otherwise be unable to afford it. Such services would potentially be curtailed in the event of defunding by Congress. Loss of federal support wouldn't affect abortion services since such funding is prohibited by the Hyde Amendment.
A hearing on Planned Parenthood was held this week by the House Judiciary Committee, which is investigating the undercover videos being used by conservative lawmakers in their mission to defund the organization. No representatives of Planned Parenthood were invited to testify.
-Noel Brinkerhoff
To Learn More:
New Research Shows the Disastrous Outcome of Defunding Planned Parenthood (by Tara Culp-Ressler, ThinkProgress)
Quantifying Planned Parenthood's Critical Role in Meeting the Need for Publicly Supported Contraceptive Care (by Jennifer Frost and Kinsey Hasstedt, Health Affairs)
Response to Inquiry Concerning Geographic Service Availability from Planned Parenthood Health Centers (by Jennifer R. Frost, Guttmacher Institute) (pdf)
28 Republican Men Threaten Government Shutdown over Planned Parenthood (by Laura Bassett, Huffington Post)
Planned Parenthood Not Invited to Hearing on Planned Parenthood (by Nadia Prupis, Common Dreams)
Planned Parenthood more Popular than All Presidential Candidates (by Noel Brinkerhoff, AllGov)
Republican Presidential Candidates Battle to Outdo Each Other in Opposing Women's Issues (by Steve Straehley, AllGov)