Most Americans Favor Funding of Planned Parenthood
Thursday, October 01, 2015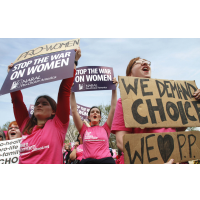 (photo: Jacquelyn Martin, AP)
Four national polls have shown that the majority of Americans favor the continued federal funding of Planned Parenthood, despite attacks from conservative lawmakers in the wake of the release of phony videos about the organization's practices.
Republicans in Congress have demanded the cutoff of all funding for Planned Parenthood, and even threatened to shut down the government if they don't get their way. Such a move would run counter to the views of most Americans, who either don't agree with defunding Planned Parenthood or don't want the government shut down over the issue.
A CBS News/New York Times survey showed 55% of respondents supported funding the group while 36% opposed it. The poll also found more than half of those who don't want to fund Planned Parenthood (53%) said it was not worth shutting down the government to win this battle.
Another poll, by the Pew Research Center, revealed 60% of respondents said Planned Parenthood funding should remain in the federal budget. Pew also found that if the government is shut down, Republicans would be blamed.
A Quinnipiac University poll released Monday found that 69% of those surveyed responded that the government should not be shut down in order to defund Planned Parenthood. An NBC News/Wall Street Journal survey released the same day found 61% of respondents opposed cutting off support for Planned Parenthood.
-Noel Brinkerhoff
To Learn More:
Majority of Americans Support Planned Parenthood, 2 New Polls Say (by Jonathan D. Salant, NJ.com)
Poll: Who would be blamed for Government Shutdown? (by Anthony Salvanto, Jennifer De Pinto, Sarah Dutton and Fred Backus, CBS News)
Majority Says Any Budget Deal Must Include Planned Parenthood Funding (Pew Research Center)
Most Americans Say Planned Parenthood Fight Isn't Worth a Shutdown, Poll Finds (by Megan Thee-Brenan, New York Times)
Planned Parenthood not Invited to House Judiciary Committee Hearing on…Planned Parenthood (by Noel Brinkerhoff and Steve Straehley, AllGov)
No Women's Health Safety Net Would Fill Gap Left by a Defunded Planned Parenthood (by Noel Brinkerhoff, AllGov)