Widely Praised Consumer Protection Bureau Director Weathers Republican Attempts to Replace Him
Monday, November 28, 2016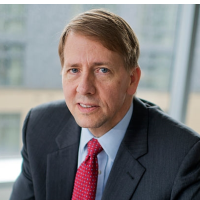 CFPB Director Richard Cordray (photo: Tom Williams, Getty Images)
By Stacy Cowley, New York Times
WASHINGTON — Mild-mannered, lawyerly and with a genius for trivia, Richard Cordray is not the sort of guy you picture at the center of Washington's bitter partisan wars over regulation and consumer safeguards.
But there he is, a 57-year-old Buckeye who friends say prefers his hometown diner to a fancy political reception, testifying in hearing after hearing on Capitol Hill about the agency he leads, the Consumer Financial Protection Bureau. Republicans would like to do away with it — and with him, arguing that the agency should be led by a commission rather than one person.
And with a Republican sweep of Congress and the White House, they may get some or all of what they wish.
Cordray, a reluctant Washingtonian who has commuted here for six years from Grove City, Ohio, where his wife and twin children live, is the first director of the consumer watchdog agency, which was created in 2010 after Wall Street's meltdown. By aggressively deploying his small army of workers — he has 1,600 of them — Cordray has turned the fledgling agency into one of Washington's most powerful and pugnacious regulators.
The bureau has overhauled mortgage lending rules, reined in abusive debt collectors, prosecuted hundreds of companies and extracted nearly $12 billion from businesses in the form of canceled debts and consumer refunds. In September, it exposed the extent of Wells Fargo's creation of 2 million fraudulent customer accounts, igniting a scandal that provoked widespread outrage and toppled the company's chief executive.
And, according to Cordray, he and his team have barely scratched the surface of combating consumer abuse.
"We overcame momentous challenges — just building an agency from scratch, let alone one that deals with such a large sector of the economy," Cordray said in an interview at his agency's office here. "I'm satisfied with the progress we have made, but I'm not satisfied in the sense that there's a lot more progress to be made. There's still a lot to be done."
But his future and the agency's are uncertain. Democrats in Ohio are encouraging Cordray to run for governor in 2018, which would require him to quit his job in Washington fairly soon, rather than when his term ends in mid-2018. Champions of the agency are imploring him to stay, arguing that if he leaves, the agency is likely to be defanged, its powers to help consumers sapped.
Opponents of the bureau just won a big legal victory: The U.S. Court of Appeals for the District of Columbia Circuit said last month that the structure of the Consumer Financial Protection Bureau was unconstitutional, and that the president should have the power to fire its director at will.
The agency is challenging the decision — which was made in a lawsuit brought by the mortgage lender PHH Corp. that contests the consumer bureau's authority to fine it — and that has temporarily stopped the decision from taking effect. But the ruling has kept alive questions about whether too much power is concentrated in Cordray's job, and whether the agency should be dismantled or restructured.
Cordray, who also battled on behalf of consumers in his previous jobs as Ohio's attorney general and, before that, its treasurer, is praised in some circles as enormously effective, wielding the bureau's power to restructure some industries and terrify others.
The bureau has "helped save countless people across the country from abusive financial practices," said Hilary O. Shelton, the NAACP's senior vice president for advocacy and policy.
Even the regulator's frequent foes — including Alan S. Kaplinsky, a partner at Ballard Spahr in Philadelphia, who says the agency often overreaches — acknowledge its impact.
"I've been practicing law in this area for well over 40 years, and there's nothing that compares to it," Kaplinsky said. "Every company in the consumer financial services market has felt the effects."
The Consumer Financial Protection Bureau has nearly replaced the Better Business Bureau as the first stop for dissatisfied customers seeking redress. It has handled more than 1 million complaints, many of which it has helped resolve.
Cordray said that as attorney general of Ohio, he had a front-row seat to the suffering that people endured during the last financial collapse. He was elected to the office in 2008 — the peak of the mortgage crisis.
"I had seen the foreclosure crisis up close," Cordray said. "I had seen all the struggles people had with student loans. These were all things we wanted to prioritize."
He has traversed socioeconomic levels. In his youth, he worked for minimum wage, $2.30 an hour, at McDonald's. Later, he attended Oxford University as a Marshall scholar, headed the law review at the University of Chicago Law School, and was a clerk for two Supreme Court justices, Byron R. White, a Democratic nominee, and Anthony M. Kennedy, a Republican one. He is a five-time "Jeopardy" champion.
Cordray said workers at the bureau were often drawn there because they felt the pain of the consumers they tried to help.
"Many people here, if you ask them why they came, they'll give you one or more personal stories" of hardship at the hands of rapacious companies, he said, adding that workers at the bureau had learned how to speak publicly and effectively about "how these issues affect people's lives. I think we've gotten more and more systematic about doing that," he said, especially with consumers' stories submitted to the agency's complaint portal.
He added, "We're also taking a lot of guidance from what we see in the pattern of consumer complaints." Debt collection complaints always top the list, which helped shape proposed rules that the agency outlined in July.
Ralph Liberatoscioli of Mineola, New York, turned to the agency this year during a wrangle with Citibank over rewards points he said his wife was owed on her checking account. After several months of fruitlessly working through layers of customer service representatives, he gave up on talks with the bank and filed a consumer bureau complaint on his wife's behalf.
Within a week, Citibank sent an apology letter and credited her account with the disputed points.
"They have clout, and the banks recognize that," Liberatoscioli said.
From the day the bureau opened its doors, it faced unrelenting criticism and a succession of legal challenges from the companies it regulates and from Republican lawmakers. The Republican Party platform adopted this year calls the bureau a "rogue agency" that should be abolished or, at a minimum, sharply curtailed.
"Other than the president, the director of the CFPB is the single most powerful official in the entire United States government, at least when measured in terms of unilateral power," Judge Brett M. Kavanaugh wrote in the District of Columbia appeals court decision in October.
The bureau was set up at the behest of Elizabeth Warren, at the time a fiery consumer advocate gaining national prominence. As a White House adviser, she hired Cordray as the agency's enforcement chief during the bureau's early days, and recommended him to President Barack Obama as its director.
When Congress created the new consumer watchdog, it granted most of Warren's wish list: The Dodd-Frank Act, the sweeping 2010 bill that increased regulation of Wall Street, established the bureau and built in strong safeguards to shield it from outside influences. The agency's budget is not subject to congressional appropriations, and its director, who serves a five-year term, cannot be fired by the president.
Because the appeals court's ruling is delayed until the challenge process plays out, Cordray still cannot be quickly removed from office by the president.
Nor would it be easy or quick for the Trump administration to dismantle or weaken the bureau — and, after all the attention Wells Fargo stirred up, it might be politically unpopular.
But Donald Trump's election revived calls from critics of the bureau to eliminate Cordray's position and replace the agency's leadership with a five-member, bipartisan commission. The critics say the move would temper the bureau's more radical impulses; supporters say it would hamstring the agency and prevent it from doing virtually anything.
U.S. Rep. Jeb Hensarling, R-Texas, the chairman of the House Financial Services Committee, introduced legislation in September along those lines, called the Financial Choice Act. If Congress wants to act immediately to curb the consumer bureau, that bill could become a blueprint.
"There has been a fairly constant dialogue with the Trump transition team about the Choice Act," Hensarling said recently.
For now, the main obstacle for Republicans who want to gut the bureau, or steer it in a very different direction, is Cordray, whose term runs through July 2018.
He took office in the shadow of Warren, but his fans and critics say — or complain — that he has proved to be every bit as fierce in carving out the agency's turf and using its regulatory and enforcement powers.
"They don't fine-tune," said Craig Nazzaro, a lawyer in Atlanta who specializes in consumer-finance law and represents debt collectors. "They take a sledgehammer to the existing rules and redefine industry standards."
The housing crisis dominated the bureau's early days. When Congress created the new overseer, it also dictated its first priority: making mortgages safer. The deadline was tight. If the bureau did not introduce new rules within 18 months, a congressionally mandated set of lending guidelines would automatically take effect.
The bureau made it with one day to spare.
It banned some practices that had fueled the crisis, like home loans with low teaser rates or no documentation of the borrower's income, and steered lenders toward "qualified" loans with a stricter set of safeguards, including checks to ensure that customers could afford to repay what they borrowed.
After much grumbling — and many dire forecasts that the new rules would limit credit and harm consumers — mortgage lenders adjusted. They made nearly 3.7 million loans last year for home purchases, the highest number since 2007, according to government data.
"It seems like the financial services industry has figured out how to adapt to this new regulatory regime," said David Reiss, a professor at Brooklyn Law School who studied the effects of the bureau's rule-making. "We've moved from the fox-in-the-henhouse market in the early 2000s, where you could get away with nearly anything, to this new model, where someone is looking over your shoulder."
But issuing new rules, one of the consumer bureau's most significant powers, is a grinding process that typically takes years. The mortgage regulations are the only major ones the bureau has completed. In many other areas it wants to change — including payday lending, debt collection, required arbitration and overdraft fees — proposed new rules are still inching their way through the development pipeline.
So the bureau has relied heavily in the last few years on one of its other powers: enforcement. By suing and fining companies when they stray out of bounds, the agency has been able to reshape the playing field years before any new regulations are completed.
"Their method is to regulate through enforcement," Kaplinsky said, echoing a common criticism of the bureau's approach. "They've entered into more than 150 separate consent orders touching literally every kind of consumer finance product, and Director Cordray has indicated to the industry that you'd better read the consent orders and follow them — even if you're not a party."
Ask Cordray about that charge, and he grins a little.
"What that really boils down to is a criticism that we're enforcing the law too vigorously," he said.
Whether the consumer bureau is enforcing the law or using stealth maneuvers to expand it is a source of fierce debate, and Cordray is regularly called on the carpet on Capitol Hill to defend his agency's actions. He has testified before Congress 27 times.
Warren said she was delighted with what the bureau had achieved under Cordray's leadership.
"The CFPB has exceeded my highest expectations," she said in an interview. "There's a lot of tools lying around at various regulatory agencies that never get used. But the bureau is using all of its tools, and is out there making a difference."
Asked if trying to police the entire field of consumer finance is like trying to boil the ocean, Cordray grinned again. "Get a big enough boiler, and you can do it," he said.
To Learn More:
Consumer Financial Protections Undermined by Court Ruling against Watchdog Agency, Say Consumer Advocates (by Marcy Gordon and Sam Hananel, Associated Press)
Consumer Finance Bureau Accused of Giving Higher Rankings to White Employees (by Danny Biederman and Noel Brinkerhoff, AllGov)
Filibuster Talk Begins of Obama's Safer Pick for Top Consumer Protection Post (by Noel Brinkerhoff, AllGov)