Director of the Consumer Financial Protection Bureau: Who Is Richard Cordray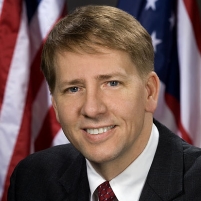 Born May 3, 1959, in Columbus, Ohio, the middle of three children of Frank and Ruth Cordray, Richard Cordray grew up in the nearby suburb of Grove City, Ohio, graduating from Grove City High School in 1977 as co-valedictorian of his class. He earned a B.A. in Legal & Political Theory at Michigan State University in 1981, an M.A. with first class honors in Economics from the University of Oxford in 1983, and a J.D. at the University of Chicago Law School, where he was editor-in-chief of the University of Chicago Law Review, in 1986.
In 1998 Cordray ran for Ohio State Attorney General against Republican Betty Montgomery, whose election in 1994 had spurred his resignation as solicitor general. Cordray lost that race, as well as a 2000 Democratic primary for U.S. Senate, although he won election in 2002 as Franklin County, Ohio, treasurer, winning re-election in 2004. He retained that post until his election in November 2006 as Ohio State Treasurer. As treasurer, Cordray brought back an economic development program that provides low-interest loan assistance to small businesses.
Just a month after the defeat of his bid for re-election as Attorney General, Cordray was named to lead the enforcement arm of the CFPB by Elizabeth Warren, a special advisor to President Obama who was the best-known and most vocal advocate of the new agency. Cordray described the opportunity as a chance to keep "doing on a 50-state basis the things I cared most about as a state attorney general, with a more robust and a more comprehensive authority."
From 1989 until 2002 Cordray was an adjunct professor at the Ohio State University College of Law.
-Matt Bewig
Testimony of Richard Cordray before the Subcommittee on TARP, Financial Services and Bailouts of Public and Private Programs