Who Rules West Virginia? Lawmakers Want to Weaken Clean Water Protections One Year after Toxic Spill Ruined Drinking Water for 300,000
Tuesday, February 17, 2015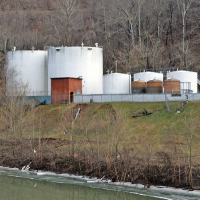 Freedom Industries plant on the bank of Elk River (photo: Tom Hindman, Getty Images)
When manmade environmental accidents occur, politicians often rush to impose new laws to keep such occurrences from repeating. West Virginia legislators took this approach initially, but now are thinking about reversing course.
One year after a chemical used to clean coal was dumped into a major waterway, polluting the drinking water of 300,000 residents, state lawmakers are considering several bills that would weaken—not toughen—clean water protection rules.
Two bills, HB 2574 and SB 423, would allow the operators of most chemical storage tanks (the majority of those required to register with the state's Department of Environmental Protection [DEP]) to avoid tougher new standards that were created following the 2014 spill into the Elk River by a facility operated by Freedom Industries.
In the Senate, lawmakers are reviewing a plan to eliminate drinking water protections sought by the DEP for the Kanwaha River, into which the Elk River flows.
The same measure would also get rid of the DEP's policy of enforcing the state's so-called "Category A" drinking water standards on all rivers and streams across the state, according to the Charleston Gazette.
Another bill, SB 357, would halt citizen lawsuits over mining company violations of certain Clean Water Act standards and would prevent the DEP from adding those standards to any future coal permits.
In addition, the coal industry wants a new law, the "Coal Jobs and Safety Act," to weaken regulations so companies can be more competitive with natural gas operators.
The United Mine Workers (UMW) union has blasted the plan, saying it would make mines riskier for its members.
"As long as miners continue to die in West Virginia's mines, we need to be looking for ways to strengthen health and safety protections, not gut them," UMW President Cecil Roberts told the newspaper.
-Noel Brinkerhoff
To Learn More:
Bills Would Weaken Water Protections (by Ken Ward Jr., Charleston Gazette)
Drinking Water Fight Looms in W.Va. Statehouse (by Ken Ward Jr., Charleston Gazette)
2014 Elk River Chemical Spill (Wikipedia)
Federal Grand Jury Indicts Owners of Chemical Company that Contaminated West Virginia Water (by Noel Brinkerhoff, AllGov)
Chemical Spill Company Fined $11,000 after Causing at least $61 Million in Damages (by Noel Brinkerhoff, AllGov)
Coal-Related Toxic Tap Water Emergency in West Virginia (by Matt Bewig, AllGov)