Federal Grand Jury Indicts Owners of Chemical Company that Contaminated West Virginia Water
Friday, December 19, 2014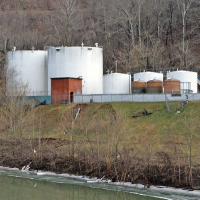 Freedom Industries plant on the bank of Elk River (photo: Tom Hindman, Getty Images)
Those in charge of the chemical company that polluted a West Virginia river earlier this year are now facing criminal charges filed by a federal grand jury.
Four owners and operators of Freedom Industries, whose negligence forced the cutoff of water supplies to nearly 300,000 residents in nine counties, were indicted on multiple counts of violating the Clean Water Act (pdf). Additional charges against the four—as well as against the company's environmental consultant and tank farm manager—include negligent discharge of a pollutant, negligent discharge of a refuse matter and violating an environmental permit. The six face up to three years in prison if convicted.
In addition, the company's president, Gary L. Southern, faces charges of wire fraud, making false statements under oath and bankruptcy fraud. If convicted on all charges, he could be sentenced to a maximum of 68 years in prison.
Freedom declared bankruptcy shortly after the January 9 accident in which 10,000 gallons of the industrial chemical MCHM leaked from the plant into the nearby Elk River. The toxic chemicals broke through a containment wall of an aging tank in the plant, which is situated on the river bank upstream from the county's municipal water intake.
"A survey by two state agencies and the Centers for Disease Control and Prevention later concluded that a fifth of the area's households that were surveyed had individuals who experienced symptoms consistent with exposure to the chemical," The New York Times reported.
Southern's lawyer, Robert Allen, said the district attorney's office should recuse itself from the case because, he says, they can't be unbiased.
"The chemical spill affected 300,000 people in this area, including everyone in the federal building," Allen told the Times. "The people who worked in the U.S. attorney's office couldn't drink the water, they couldn't cook with the water, they couldn't bathe in the water."
-Noel Brinkerhoff
To Learn More:
Owners of Chemical Firm Charged in Elk River Spill in West Virginia (by Michael Wines, New York Times)
Freedom Industries, Execs Criminally Charged (Corporate Crime Reporter)
Chemical Spill Company Fined $11,000 after Causing at least $61 Million in Damages (by Noel Brinkerhoff, AllGov)
Coal-Related Toxic Tap Water Emergency in West Virginia (by Matt Bewig, AllGov)