Chemical Spill Company Fined $11,000 after Causing at least $61 Million in Damages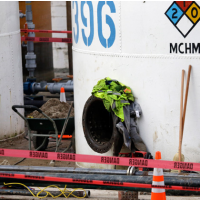 Freedom Industries storage tank, source of chemical leak (photo: Steve Helber, AP)
Earlier this year, a West Virginia chemical company contaminated the drinking water of hundreds of thousands of people, resulting in more than $60 million in economic damages. But the federal government so far has fined the company only $11,000.
The spill happened January 9 when chemicals used to clean coal leaked from Freedom Industries tanks and ended up in the Elk River, contaminating water supplies for much of the state.
Schools and businesses had to close as a result of the contamination, which left 300,000 people without water. About 20% of those affected reported having health problems afterwards. Business owners lost $61 million as a result of the spill and water loss, according to a report by Marshall University.
The Occupational Safety and Health Administration (OSHA) investigated the incident and concluded that the diked wall Freedom Industries had around its chemical storage tanks was not "liquid tight." For this error, the company must pay $7,000.
OSHA hit Freedom Industries with another fine of $4,000 for failing to install adequate handrails for employees to use while walking over the diked areas.
-Noel Brinkerhoff
To Learn More:
WV Chemical Company Fined $11,000 for Poisoning 300,000 People's Drinking Water (by David Edwards, Raw Story)
Chemical Spill Cost West Virginia Businesses $61M (Environmental Leader)
Coal-Related Toxic Tap Water Emergency in West Virginia (by Matt Bewig, AllGov)