White House Clashing with Senate (and Contractors) over Decentralizing Weapons Deals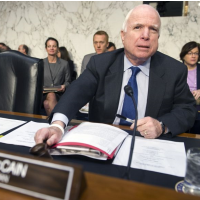 Sen. John McCain, chairman of Senate Armed Services Committee (photo: Cliff Owen, AP)
The U.S. Senate is trying to do defense contractors a big favor by limiting the role of the secretary of defense in weapons acquisitions, preferring instead to decentralize the process and give the heads of armed services more power in these decisions.
But the White House has made it clear to lawmakers that it will not go for this change and is willing to veto the legislation if it reaches President Barack Obama's desk.
The decentralization plan is currently included in the Senate's version of the annual bill that funds the Pentagon, the $612 billion National Defense Authorization Act. Contained in section 843, the provision is supposedly intended to speed up the procurement of weapons, which can get bogged down in "multiple, duplicative reviews within the Office of the Secretary of Defense and services," per a Senate Armed Services Committee report.
In other words, the provision would give the commanders of the Army, Navy, Air Force and Marines more power to make decisions on weapons purchases at the expense of the defense secretary.
Defense contractors have responded positively to the Senate draft, but the White House warned that, as a result of the added provision, contractors would find conducting business more burdensome due to the multitude of audit groups they'd have to deal with, according to Government Executive.
The House version of the bill does not contain such a provision, and in fact requires the defense secretary to designate a single individual to determine the commercial availability of products sought by branches of the Pentagon. Such a process "would likely result in actions contrary to Congress' desire to foster greater reliance on commercial items and, at the same time, reduce competition," wrote Professional Services Council president and former undersecretary of defense Stan Soloway in an April letter (pdf) to House Armed Services Committee leaders.
In lodging its objection to the lawmakers, the Obama administration said the change is "inconsistent with the secretary of Defense's exercise of authority, direction, and control over all of the DoD programs and activities. Since DoD's founding, the secretary of Defense has served as the principal assistant to the president in all matters relating to DoD and subordinated the departments of the Army, Navy, and Air Force to the secretary's authority."
The White House also said: "This provision would undermine this principle by seeking to exclude the secretary and his assistants from certain matters entrusted exclusively to the military departments" and also reduce the ability of the secretary and the acquisitions undersecretary "to guard against unwarranted optimism in program planning and budget formulation, and prevent excessive risk taking during execution -- all of which is essential to avoiding overruns and costly delays."
-Noel Brinkerhoff, Danny Biederman
To Learn More:
White House Objects to Defense Bill Contracting Provision Empowering Service Chiefs (by Charles Clark, Government Executive)
Contractors Oppose Plan to Centralize Pentagon Commercial Purchasing (by Charles Clark, Government Executive)