Water Contamination from Florida Nuclear Plant Leak Had Been Critics' Concern 40 Years Ago
Wednesday, March 30, 2016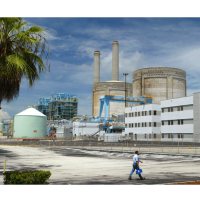 Turkey Point Nuclear Power Plant (photo: Joe Raedle, Getty Images)
By Lizette Alvarez, New York Times
MIAMI — When Florida's largest power company added two nuclear reactors to an existing plant that sat between two national parks — Biscayne Bay and the Everglades — the decision raised the concerns of environmentalists and some government officials about the possible effects on water quality and marine life.
Now more than four decades later, Florida Power and Light's reactors at Turkey Point, built to satisfy the power needs of a booming Miami, is facing its greatest crisis. A recent study commissioned by the county concluded that Turkey Point's old cooling canal system was leaking polluted water into Biscayne Bay.
This has raised alarm among county officials and environmentalists that the plant, which sits on the coastline, is polluting the bay's surface waters and its fragile ecosystem. In the past two years, bay waters near the plant have had a large saltwater plume that is slowly moving toward wells several miles away that supply drinking water to many residents in Miami and the Florida Keys.
Samples of the water at various depths and sites around the power plant showed elevated levels of salt, ammonia, phosphorous and tritium, a radioactive isotope that is found in nature but also frequently associated with nuclear power plants. The tritium, which was found in doses far too low to harm people, serves as a marker for scientists, enabling them to track the flow of canal water out from under the plant and into the bay. The tritium levels in December and January were much higher than they should be in ocean water.
Environmentalists, who have waged a longtime battle over water quality with the power company, among the largest in the country, said Tuesday that they planned to sue Florida Power and Light in 60 days for violating the federal Clean Water Act unless it addressed the problem.
The company has faced criticism and scrutiny from a judge and Miami-Dade County officials who said it was slow to react to the changes in water quality after the company overhauled Turkey Point in 2013 to increase its energy output. The plant, whose canals are filled with extremely hot water, was built on Florida limestone, which is highly porous.
To Learn More:
Two New Nuclear Reactors in the Works, While Alarms Sound over High Radiation Levels at Waste Site (by Steve Straehley, AllGov)
Inconsistent Oversight at U.S. Nuclear Power Plants Puts Safety at Risk (by Noel Brinkerhoff, AllGov)
40% of U.S. Nuclear Reactors Have Had "Near-Misses" Since 2010 (by Matt Bewig, AllGov)
Safety Officer Fired for Shutting Down Dangerous Nuclear Reactor (by David Wallechinsky and Noel Brinkerhoff, AllGov)