Safety Officer Fired for Shutting Down Dangerous Nuclear Reactor
Friday, September 21, 2012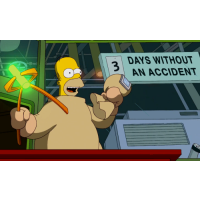 Mark W. Hicks is suing his former employer claiming he was fired for following federal safety procedures that mandated a Florida nuclear power plant reactor be shut down to avoid catastrophe.
Hicks, who worked as operations manager at the St. Lucie power plant, claims in his lawsuit that Florida Power & Light (FPL) terminated his employment after he discovered a leak in the plant's coolant system that could have led to a meltdown. On November 21, 2009, Hicks and others noticed that a safety relief valve had lifted, causing a leakage of coolant. Following federal regulations, he says he ordered the reactor shut down to avoid an accident similar to the 1979 Three Mile Island incident in Middletown, Pennsylvania. Hicks reported what he had done to his superiors, including FPL executive vice president Manoochehr Nazar, who ordered Hicks to restart the reactor. Hicks refused.
The plaintiff claims the utility didn't want to power down the reactor and make repairs in order to save money. According to the lawsuit, it was later determined that various repairs did have to be made, costing FPL $6 million. Hicks was put on probation, his pay was cut and he was eventually fired. He is seeking back pay, lost benefits and other compensatory damages.
Michael Waldron, FPL's nuclear communications director, defended his company, claiming that "Mr. Hicks' claims are a work of fiction filled with timelines that don't match the record, inflammatory personal attacks and out and out lies,"
-David Wallechinsky, Noel Brinkerhoff
To Learn More:
Disturbing Tale From Florida Nuclear Plant (by Marimer Matos, Courthouse News Service)
Former Saint Lucie Nuclear Plant Manager Says He Was Fired for Preventing Meltdown (by Ariel Barkhurst, South Florida Sun Sentinel)
Mark Hicks v. Florida Power & Light Co. (Florida Circuit Court, Nineteenth District) (pdf)