Two New Nuclear Reactors in the Works, While Alarms Sound over High Radiation Levels at Waste Site
Monday, February 24, 2014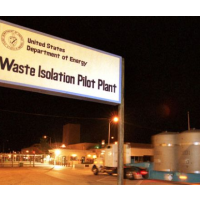 (AP photo)
Energy Secretary Ernest Moniz traveled to Georgia on February 20 to issue loan guarantees to construct the first two nuclear reactors to be built in the United States in nearly 30 years. But just days before, in New Mexico, there was an incident that threw into question the ability to deal with the nuclear waste being generated by existing reactors.
On February 14, an alarm sounded at the Waste Isolation Pilot Plant (WIPP), near Carlsbad, New Mexico. The alarm was an indication that radiation was escaping into the lower levels of the facility, which is more than 2,000 feet below ground. Air filters were activated and personnel were prohibited from entering the facility.
Officials said there was no danger to humans. "Officials at WIPP continue to monitor the situation," spokeswoman Deb Gill told the Los Angeles Times. "We are emphasizing there is no threat to human health and the environment."
Edwin Lyman, a senior scientist at the Union of Concerned Scientists, told the Times he believed the cause of the New Mexico leak probably involved radioactive material on the outside of a container that was not properly decontaminated. Waste is typically packaged into sealed containers.
"It could be a mess," Lyman said. "If there is airborne contamination and it involves plutonium, they are going to need to decontaminate surfaces. If it is in the ventilation system, it could have spread to other areas."
In 2013, the Union of Concerned Scientists released a report saying that over the previous three years, 40 of the 104 reactors in service had suffered one or more "near-misses." A near-miss is an incident that increases the likelihood of a meltdown of the reactor core by a factor of 10.
It's because of incidents such as the one in New Mexico that some are objecting to the plan to build new reactors as part of the Barack Obama Administration's "all-of-the-above" approach to the energy needs of the U.S. "For an industry in decline with a repeated history of financial failure and unmanaged safety and waste problems, it's really disappointing that President Obama has continued to drag this technological albatross around," Paul Gunter, director of the Reactor Oversight Project at Beyond Nuclear, said in an interview with Common Dreams.
The loan guarantees will fund the construction of two new 1,100-megawatt Westinghouse AP1000 nuclear reactors at the Alvin W. Vogtle Electric Generating Plant near Waynesboro, Georgia, according to the U.S. Department of Energy. Industry figures show the two new reactors—built on a reactor model that industry watchdogs say has not been tested—will provide electricity to supply nearly 1.5 million homes.
"The nuclear industry is a false solution to the climate change issue," Gunter said. "Throwing more resources into that false solution not only delays us in addressing climate change, it may even preclude us from addressing it."
-Steve Straehley
To Learn More:
Critics Blast DOE Nuke Loan as Championing "Technological Albatross" (by Lauren McCauley, Common Dreams)
Radiation alarm at New Mexico nuclear disposal plant spurs air shutoff (by Brian McBride and Mary Grace Lucas, CNN)
Radiation leak forces closure at New Mexico waste burial site (by Ralph Vartabedian, Los Angeles Times)
40% of U.S. Nuclear Reactors Have Had "Near-Misses" Since 2010 (by Matt Bewig, AllGov)