Inconsistent Oversight at U.S. Nuclear Power Plants Puts Safety at Risk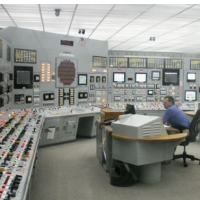 Cooper nuclear power plant control room (AP Photo)
The Nuclear Regulator Commission (NRC) has been accused of inconsistent oversight of the nation's nuclear power plants, most of which are operating beyond their originally intended lifespan.
The Government Accountability Office (GAO) reviewed NRC regulatory reports and produced a study detailing the results. It found the western region of the United States, which has the fewest reactors, reported the most low-level violations from 2000 to 2012.
It also found that, during the same period in question, the Southeast, with the most reactors of the NRC's four regions, had the fewest such violations.
The GAO said the variations have less to do with differences in reactor performance, and more to do with the fact that regulators use different rules and guidelines from region to region. It theorized that a reason for this may be that the reactors with the lower-level violations are given less scrutiny. Common corporate ownership of multiple plants may also be a factor, said the GAO report. It went on to say that the real reasons aren't clear because the NRC has never conducted a thorough study of them. At this time, the "NRC cannot ensure that oversight efforts are objective and consistent," GAO auditors concluded.
An industry expert and critic of the NRC went even further.
"I believe the oversight process is totally arbitrary," Paul Blanch, an engineer who once blew the whistle on problems from within the industry and later returned to work on safety, told the Associated Press.
Blanch also accused the NRC of not providing consistent training to inspectors and regional staff.
When it comes to low-level violations, the Cooper nuclear station in Brownville, Nebraska, had the most, with 363. The next four were Wolf Creek (266) in Burlington, Kansas; Kewaunee (256) in Kewaunee, Wisconsin (it was permanently shut down in May); Perry (256) in Perry, Ohio; and River Bend (240) in St. Francisville, Louisiana.
Some of these low-level violators also made the list of those with the most high-level violations from 2000 to 2012. They were Davis-Besse (14) in Oak Harbor, Ohio; Cooper (11); Kewaunee (9); Perry (8); Palisades (8) in Covert, Michigan; and Fort Calhoun (8) in Fort Calhoun, Nebraska.
Of the 104 commercial reactors studied by the GAO, four were permanently closed down earlier this year.
The study was conducted at the request of U.S. senators in response to the 2011 Fukushima nuclear accident and that year's Associated Press investigative series about aging U.S. nuclear plants.
-Noel Brinkerhoff
To Learn More:
Uneven Enforcement Suspected at Nuclear Plants (by Jeff Donn, Associated Press)
Nuclear Power: Analysis of Regional Differences and Improved Access to Information Could Strengthen NRC Oversight (Government Accountability Office)
All U.S. Nuclear Reactors Have Unfixable Safety Problems, Warns Former NRC Chairman (by Noel Brinkerhoff, AllGov)
40% of U.S. Nuclear Reactors Have Had "Near-Misses" Since 2010 (by Matt Bewig, AllGov)